Our FREE GoPro checklist below includes the essentials, mounts, grips, and miscellaneous accessories you will need to capture the perfect shot every time. Whether you are surfing, snowboarding, hiking, mountain biking, or snorkeling we've got you covered. We do a lot of cool things as adventurers and it is important to have the right tools when trying to capture every awesome moment.
If you are not familiar with GoPro names, you may be wondering why some of the items below sound kind of funky. We decided to use the official GoPro accessory names to keeps things consistent. If you are unsure what an item is (due to its name), click on it and a link will take you to the item on GoPro's website. These are the items we consistently use and never want to forget while on adventure. If we missed any important items please feel free to add them in the comments section below. We hope you find our GoPro checklist useful!
Essentials
Camera - The most important item on a GoPro checklist.
MicroSD Card - There is nothing worse than trying to capture video on a card that stops recording after a few seconds because it is not fast enough. Use a Class 10 card or faster, and make sure that it has the biggest capacity you can afford. 4K and 2.7K videos can quickly eat up a lot of memory.
Spare Rechargeable Batteries - It is a good idea to have a couple spare batteries with you when using your camera. These are not very expensive and the last thing you want to do is run out of juice.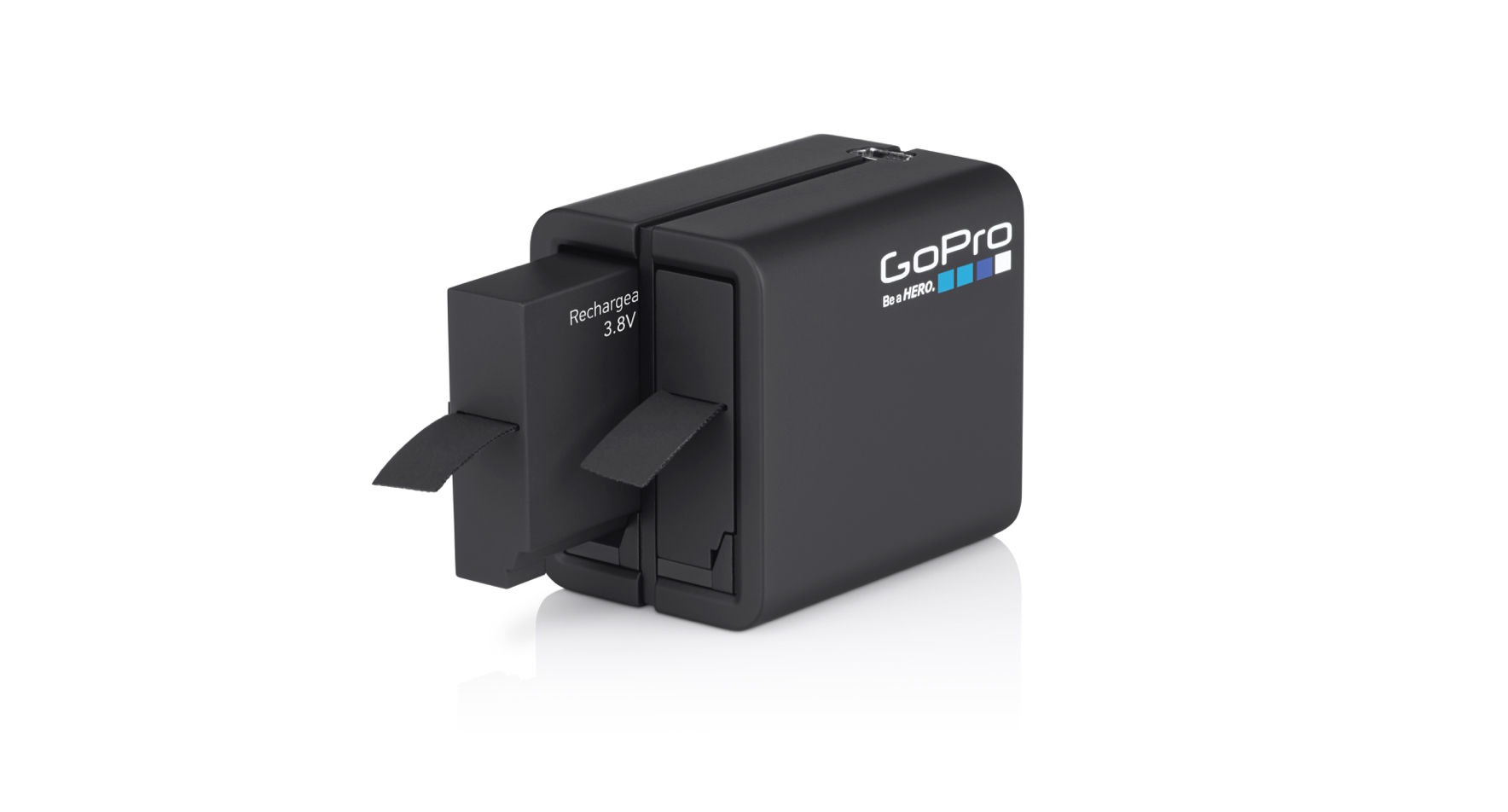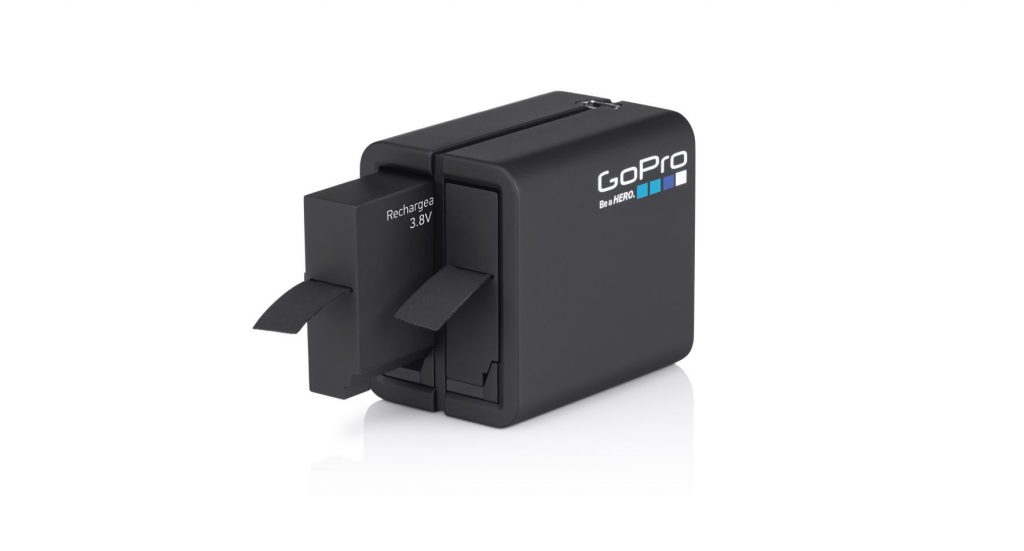 GoPro Dual Battery Charger - It doesn't do you any good to have spare batteries if you don't have a way to charge them when they're not inside your camera. This allows you to charge your dead batteries and use your charged batteries in your camera simultaneously.
Protective Carrying Case - This is a handy item to keep your camera and accessories together and safe while traveling.
Mounts
Chesty - This mount secures around your upper body and has many uses. Two of the most common are mountain biking and skiing.
Head Strap - This mount straps around your head. The convenient thing about this mount is that you can wear it under a hat or helmet.
The Strap - This can be secured to your hand, wrist, arm, or leg and is great for capturing any adventure or activity hands free. The Strap also works great for capturing hands free underwater footage.
Handlebar/Seatpost/Pole Mount/Large Tube Mount - These mounts can be used when attaching the camera to handlebars, seat posts, ski poles, and pretty much any other pole or tube with a diameter of 0.9" to 2.5" thick. They have a very compact and simple design allowing them to fit in tight spaces.
 Bike Seat Rail Mount - Allows you to specifically attach the camera to the rear of two-rail saddle seats to capture the action going on behind you while riding.
Removable Adhesive Mounts (Flat/Curved) - These can be used to attach your GoPro to pretty much anything with a flat or curved surface. The most common use for the adhesive mounts is helmets. They're extremely sticky and waterproof which means they won't fall off.
Helmet Mount (Front/Side) - This is an adhesive mount that attaches to your helmet and comes with a swivel mount to adjust your camera on the fly.
Swivel Mount - This mount allows you to make adjustments to your camera angle or completely reverse it on the fly. It attaches to the adhesive mounts via buckle.
Low Profile Helmet Swivel Mount - This is an adhesive mount that is meant to be attached to the side of a helmet. It is called a low profile mount because it sits very close to the side of the helmet. It is important to note that this mount can only be used with a GoPro Session.
Vented Helmet Strap Mount - This mount is most commonly used on bicycle helmets, but can be used on any helmet with vents. It secures to the helmet by wrapping a Velcro strap around one of the vents on the top of the helmet.
 Mounts Continued
Jaws Flex Clamp - This clamp works like a super strong chip clip. It can grip any object up to 2" thick. It comes with a flexible arm that you can attach to the end of the clamp for more length if needed.
Flexible Gooseneck - This is a flexible arm that lets you point the camera exactly where you want it. The mounting buckle on the bottom allows you to easily clip it into one of the adhesive mounts.
Suction Cup - The suction cup can be used to secure your GoPro to cars, windows, motorcycles, boats, and most other smooth surfaces. The suction cup has been tested at speeds of 150+ mph. It is important to clean the surface well (preferably with alcohol) before suctioning your GoPro to it.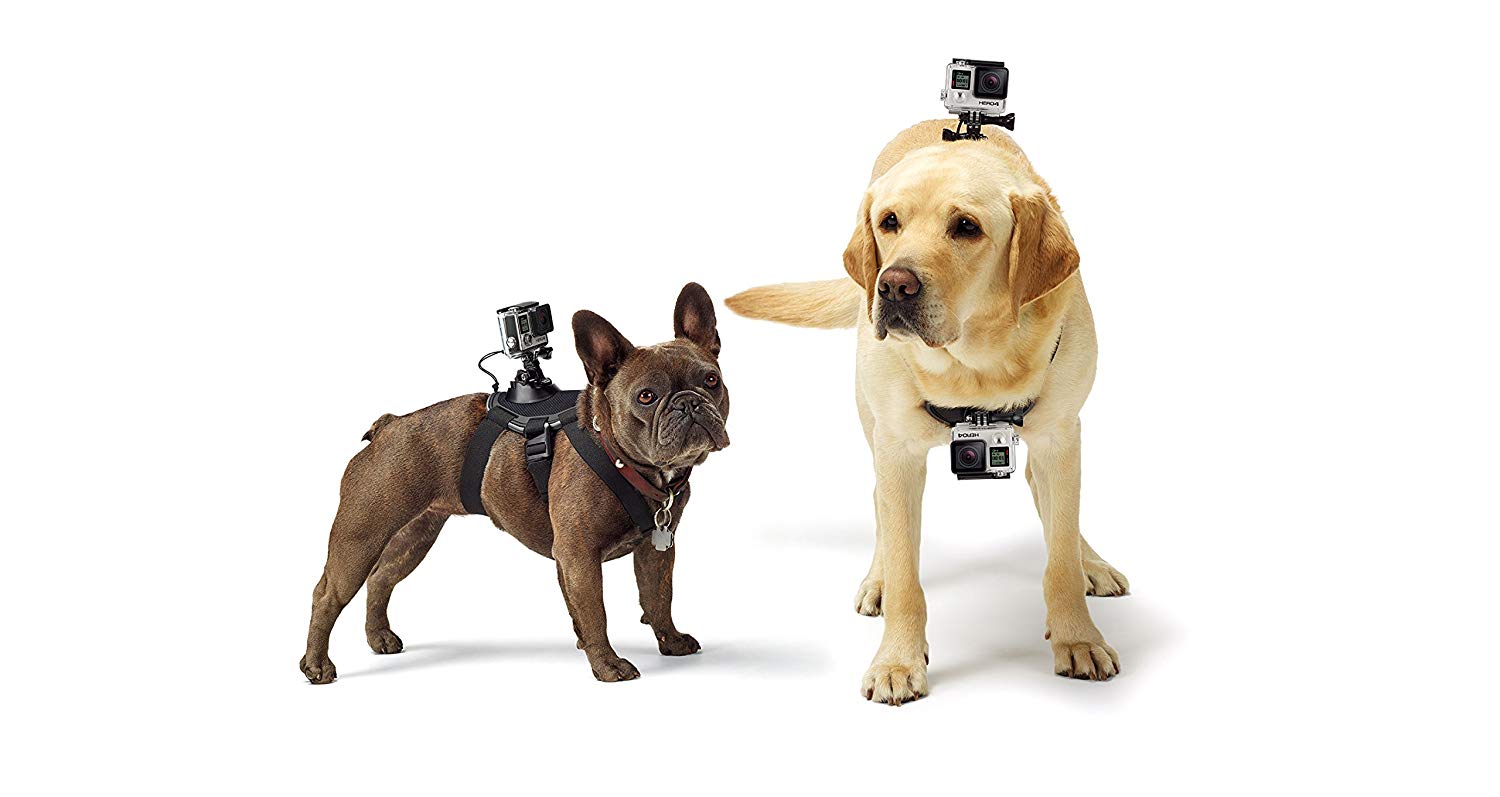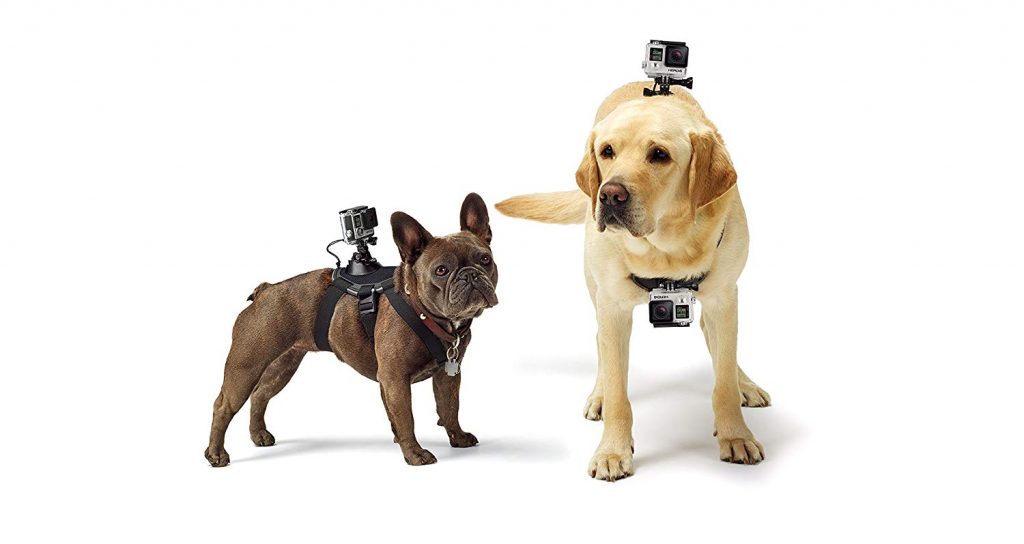 Fetch - This mount allows you to record from your dog's point of view. With chest and back plates, you should be able to capture all angles while playing fetch with your dog.
Night Vision Goggle (NVG) Mounting Plate - This mount is designed to attach to any standard night vision goggle mounting plates. These mounting plates are found on many military/police helmets.
Grips
Gimbal - We all know what a gimbal is. Gimbals allow you to capture insanely smooth footage. This is one of the keys to cinematic footage when using a GoPro.
3 Way - This is called the 3 way because of its three different functions It starts off as a handgrip and can easily extend into a selfie stick and a tripod. Definitely one of GoPro's most useful accessories.
Flexible Tripod - This is no ordinary tripod. The flexible tripod allows you to bend and twist the legs to conform to any surface. You can even wrap the flexible legs around poles and trees to capture the best footage possible.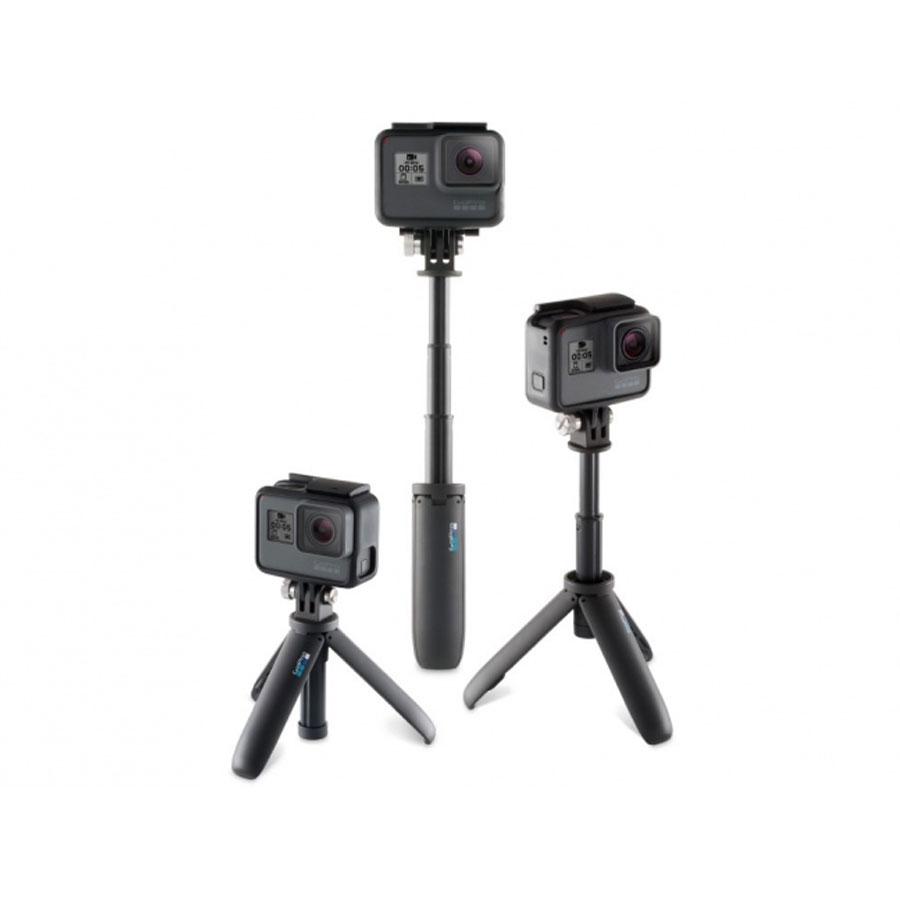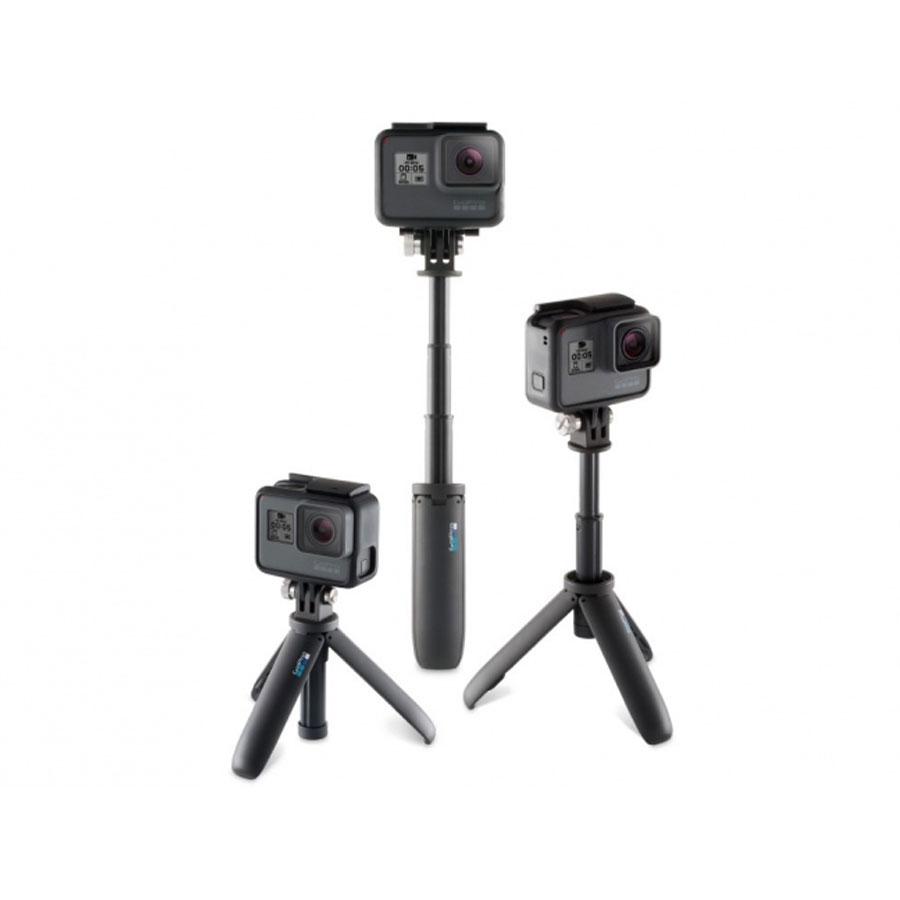 Shorty - Shorty is a mini extension pole and tripod. Its compact design makes it ideal to take anywhere. It extends up to 8.9 inches to expand the view of your camera when filming yourself, while the built in tri-pod legs let you film hands-free wherever you are.
El Grande - El Grande is an aluminum pole that extends up to 38 inches allowing you to capture new perspectives and get you closer to the action. The great thing is El Grande collapses down to 15 inches. This makes it compact enough to throw into a backpack and take on any adventure.
The Handler - The Handler is a handgrip that provides stability when holding the camera and is great for use in and out of the water. There is no need to worry if dropped while in the water because the handler will keep your camera afloat.
Water Accessories
Super Suit (Waterproof Casing) - The GoPro Hero 5 black and all cameras after are waterproof up to 33 feet. If you want to take the camera deeper, you'll need this waterproof casing. The Super Suit is waterproof up to 197 feet which makes it perfect for more serious divers.
Floaty - This accessory attaches to the back of the camera and keeps it afloat in case you accidently let go of it underwater. Thanks to the bright orange color, you'll have no problem spotting the camera if it does get dropped.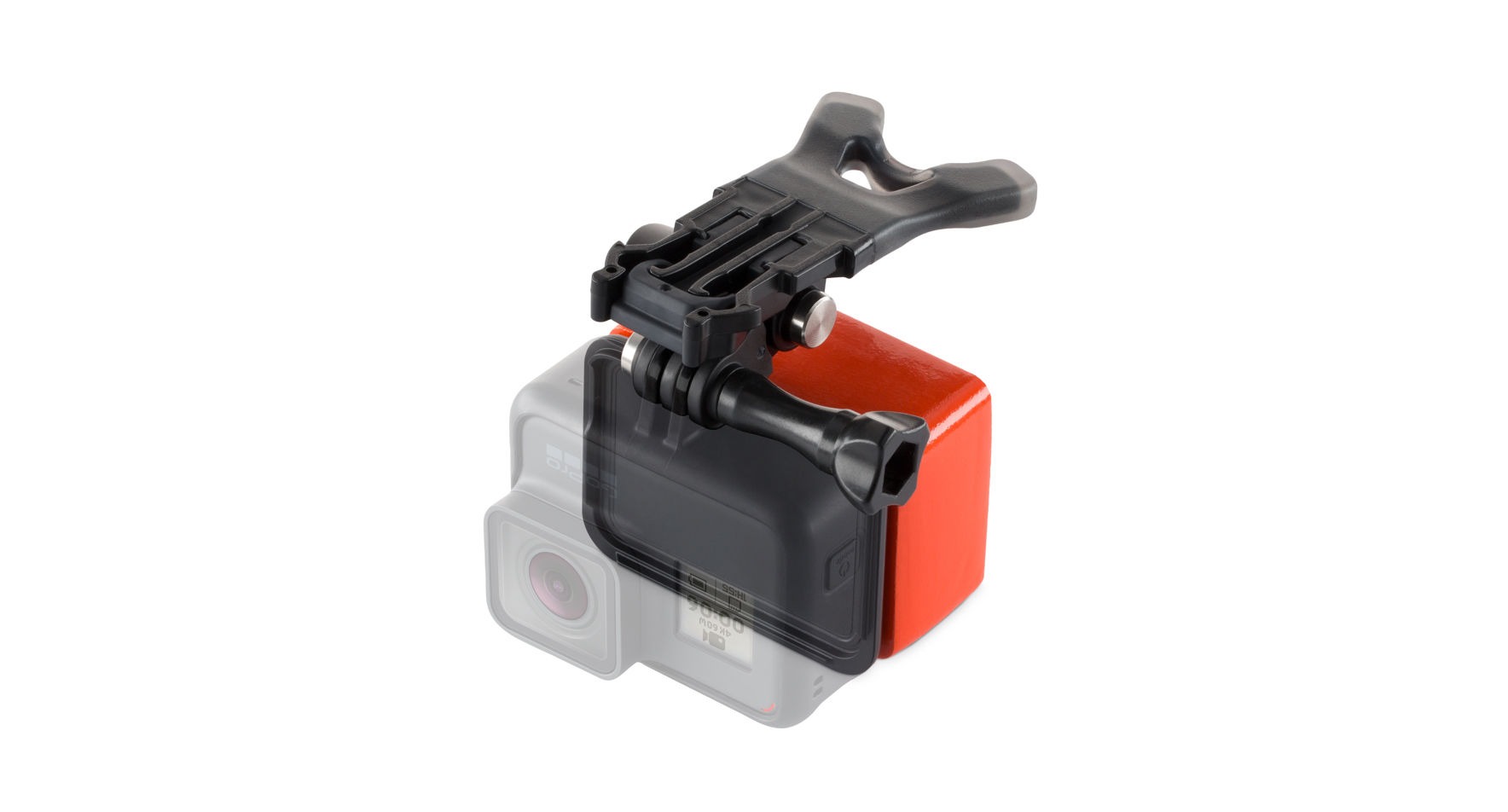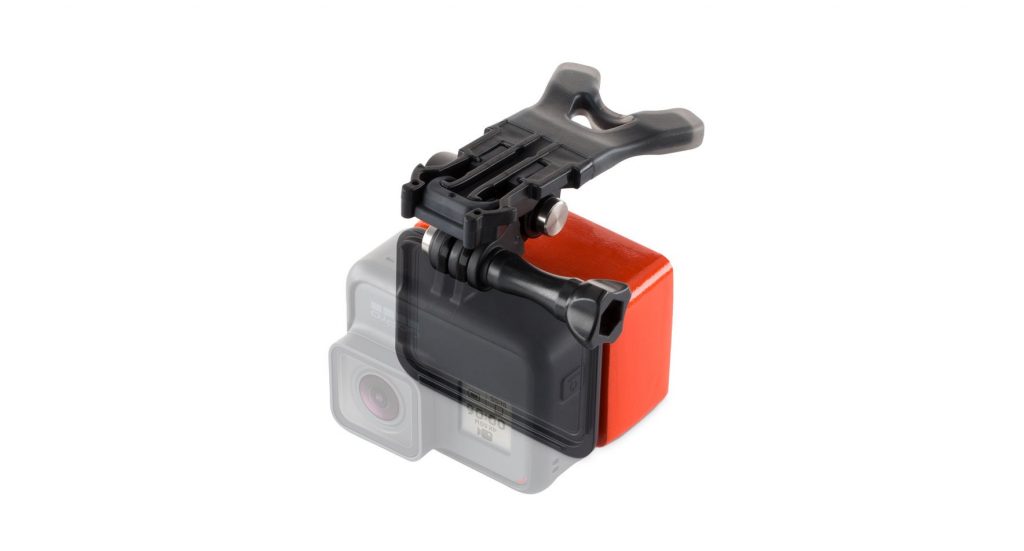 Bite Mount Floaty - This mount is held between your front teeth and works great when both hands are in use. It is most commonly used while surfing.
Surfboard Mount - The surfboard mounts work the exact same way as the adhesive mounts but are designed to better withstand water. The surfboard mount also works great on boat decks, kayaks, and other water gear with a smooth surface.
Soft Top Bodyboard Mount - This allows you to mount your camera to your body board, soft-top or foam surfboard, or SUP to capture your session from a different perspective. You can also point the camera back towards yourself to capture selfies while in the water.
Blue/Grean Water Filter - Underwater environments come with their own color casts, and these filters provide the necessary color corrections.
Miscellaneous Items
Screen Protectors - We all know why these are important.
Extra Thumb Screws (All Lengths) - These little guys seem to disappear all the time. They are extremely cheap online and it's always a good idea to keep a few spares handy.
Smart Remote - Control your GoPro remotely from a distance of up to 600ft with this wearable, waterproof remote. Perfect for gear mounted shots, you can power the camera on and off, adjust settings, start and stop recording, and capture photos. You can also add HiLight tags to mark key moments while recording for easy playback, editing, and sharing.
Lens Replacement Kit - This is a glass lens that shields the interior camera lens from dirt, dust and scratches. It is always a good idea to have a spare lens if you are planning on using the camera for a long period of time, say a vacation. The outer lens has the potential to see a lot of damage due to the nature of the camera.
Camera Tethers - Camera tethers add an extra layer of security when using your GoPro in extreme conditions. Attach the adhesive anchors to your gear, then secure the Camera Tethers to The Frame or camera housing backdoor. If your GoPro comes loose, it will remain attached to your gear. Adhesive anchors can be removed by applying heat from a hair dryer, then peeling them off.
Sleeve Lanyard - This is a silicone sleeve that fits snugly around the camera without adding any extra bulk. It comes with an adjustable lanyard to wrap around your neck or wrist. The sleeve comes with a couple different colors which helps add a little color and personality to your camera.
Additional Information
Set your connections - Pair up your GoPro's Wi-Fi connection with the camera's remote and your smartphone app before heading out on your adventure. Setting up the Wi-Fi is a bit tricky; pay close attention to the instructions.
Apply adhesive mounts ahead of time - Adhesive mounts need to be applied at room temperature and need to set for at least 24 hours for the mount to properly adhere to the surface. Be sure to mount to a smooth, fully cleaned surface. Any imperfections to the surface can keep the adhesive from making a strong bond.
Transfer data on SD card to an external storage device - Before embarking on an adventure be sure to transfer all older pictures and videos to an external storage device. This will ensure you will have enough space on your SD card to capture all your new footage. Also, it may be a good idea to store your old photos and videos in multiple places. There is nothing worse than spending a lot of money and time creating awesome content just to lose it all and never see it again.
Download the GoPro Apps
The apps let you control the camera with your smartphone, edit your movies, and share your masterpieces. You can find these on your devices app store or at GoPro.com

GoPro Capture app - The Capture app allows you to see what you are shooting via a live preview. It also provides full remote control of all camera functions. This allows you to start and stop your recording, adjust camera settings, or take a photo.  Without the app you may have trouble controlling the camera, especially when it is mounted to something out of reach. You can also playback video and view photos right on your smartphone. The last thing this app lets you do is wirelessly update the camera's firmware. Without the most recent updates, the camera cannot perform its best.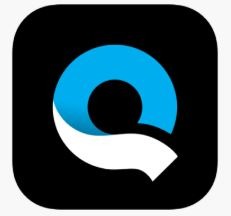 GoPro Quik app - The Quik app helps automate the editing process. This app automatically analyzes clips, puts them together, and syncs them to the beat of a soundtrack. The app allows you to use one of their built in soundtracks, or you can upload one from your device. Once you tap save, you can share the video on a variety of social media sites including Twitter, Facebook, and Instagram. You can also save directly to your device or on the Cloud. This app is not only available for smartphones and tablets, it also have a desktop version.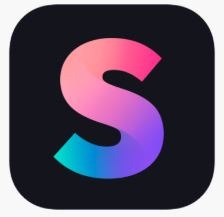 GoPro Splice app - Splice brings the power of a desktop editing system to the convenience of your iPhone of iPad. This allows you to make high quality edits moments after you shoot them. You can easily add music, sound effects, and titles before uploading to a social media site. Within this app you can trim clips, crop the frame, as well as add titles, music, and special effects.