San Diego paddle boarding includes a variety of marine life, endless waterways, SUP surfing, and beautiful weather year-round. No matter your skill level, you are guaranteed to have an awesome time. If you are a beginner, there are multiple areas where you can learn to paddle board while taking in the beautiful scenery. There are also a few places that have consistent waves for SUP surfing. San Diego also has an active SUP yoga community that meets in the bay on a weekly basis. 
Coronado Island
Coronado Island is located just five minutes from downtown and is one of the best places to paddle board in San Diego. All you have to do is cross the Coronado Bridge, which is a sight to see in itself! Coronado Island is small in size but houses San Diego's entire naval base. It is also home to a few very beautiful beaches. You can often find very consistent waves on Coronado Island, which makes for great SUP surfing. Coronado Island is also a great place for families to play in the ocean or walk along the boardwalk. Beware, the waters get pretty busy on the weekends. No matter who you go with, this is a place you won't want to miss.
Mission Bay
Mission Bay is also located just a few minutes from downtown San Diego. The 4,600-acre water wonderland is the largest of its kind in the world. It is surrounded by 27 miles of meandering shoreline, with a variety of calm waterways, inlets, and islets which are great for exploring via paddle board. It is understood that not everyone has a need for exploration. This area is also a great place to sit back, relax, and go fishing on your SUP. Within Mission Bay is Santa Barbara Cove. This cove not only has a very large parking lot, but it is also protected on three sides. That means that even on the windiest of days the water stays pretty calm. This cove is great for beginners, or those interested in SUP yoga. You can find more information on SUP yoga and paddle boarding San Diego here.
Mission Bay is bordered by several beach communities such as Mission Beach and Pacific Beach. As you paddle board around the Bay, you will not only see spectacular marine and wildlife, many find themselves drooling over the spectacular homes too. Each of these communities provides adventurers and locals with a wide variety of entertainment and nightlife. You will quickly discover that Mission Bay is packed with fun people and activities from sun up to sundown.
La Jolla Cove Marine Sanctuary
La Jolla is by far the prettiest place in San Diego. If you are standing on the shore you can look to the horizon and see the Pacific Ocean for miles. If you are paddle boarding in La Jolla Cove, not only can you see the seals sunbathe on the rocky cliffs, you can also get pretty close to them. While paddle boarding you are also likely to see leopard sharks, bat rays, sea turtles, and jellyfish. The marine life is really fun to look at but please don't harm, bother, or feed any animals while on the water.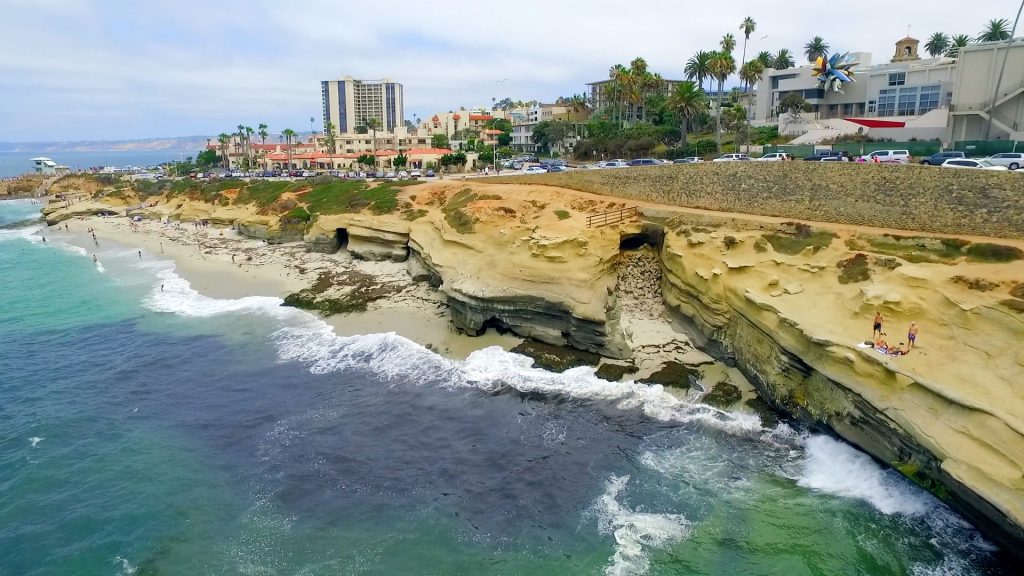 There are also some really cool caves at the base of the rocky cliffs you can explore if you are brave enough. If possible, try to plan your outing just before dusk. If you plan accordingly, you usually will get to see an amazing sunset. When you start paddling back towards the shore, the city lights should be coming on and it is truly a sight to see. I highly advise only experienced paddle boarders do this as the ocean is very dangerous and can change in a heartbeat. You wouldn't want to get stuck out there in the dark.
Del Mar - Dog Beach
Let's face it; dogs love to paddle board too! The city of Del Mar has always been known as a dog-friendly destination and is home to the only dog-friendly beach in San Diego. The official name is North Beach, but to dog owners, it is known as Dog Beach. From 29th Street north all the way to Solana Beach dogs can paddle and run freely, except during the summer months when they must be on a leash.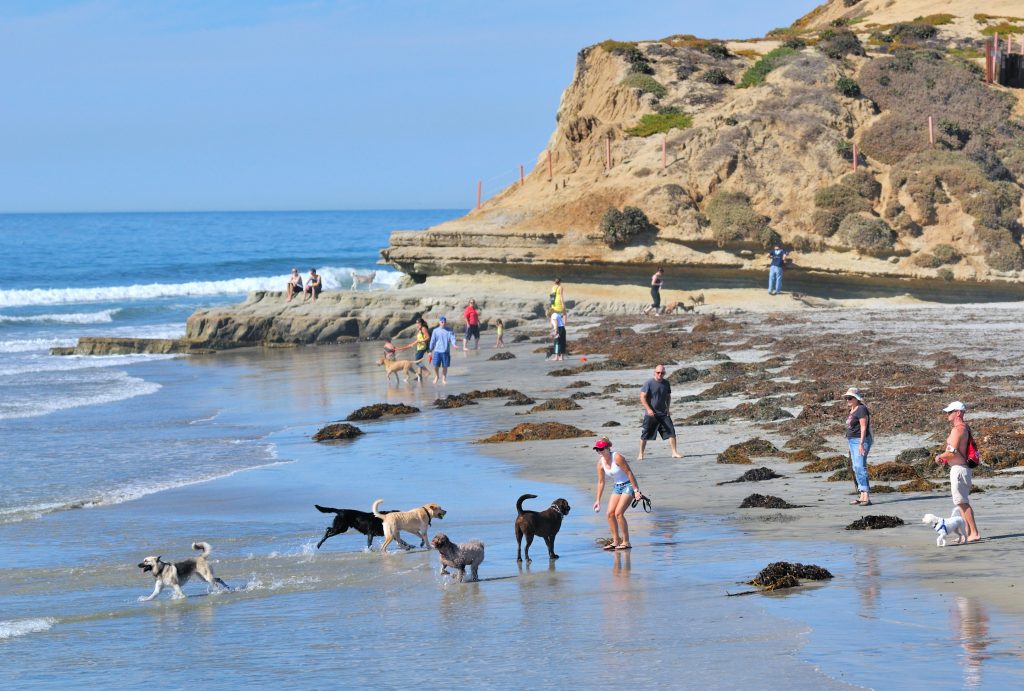 It is also a great hybrid beach for their owners who love to paddle board. A hybrid beach is one that offers calm, flat waters for beginners and dogs. It also has a river mouth which allows the more adventurous ones to practice their SUP surfing. If you or a friend is not interested in paddle boarding, this is a great beach to play some volleyball, hike to a scenic overlook, or just soak up some sun with your dog.
Paddle Board Rentals in San Diego
SUP Coronado
SUP Coronado is Coronado Island's oldest continually running standup paddle board tour and rental facility. Not only that, but they are also family-owned and operated. You can choose to make a reservation with a paddle board instructor, take a bay tour along downtown San Diego's skyline or rent a paddle board and venture out on your own. No matter which one you choose, SUP Coronado has all your stand up paddle boarding needs covered. As a note, they require reservations for lessons, tours, and rentals.
The SUP Connection
Another great place to rent paddle boards is The SUP Connection. It is important to note that The SUP Connection is not located on Coronado Island. They are located on the waterfront in front of the Courtyard Marriott Liberty Station in Point Loma. Paddle board rentals at the SUP Connection start at $25.00 per hour. They also offer lessons for beginners. They are open for walk-ups on the weekends from 10:00 am to 5:00 pm and by reservation during the week.
Mission Bay Stand Up Paddle
Mission Bay Stand Up Paddle is a great place to rent if you are headed to Mission Beach. They offer paddle boards starting at $25.00 for 90 minutes. Reservations are recommended as it can be very busy during peak times.
La Jolla Kayak
Although the name may be misleading, La Jolla Kayak does rent stand up paddle boards. They also give you plenty of time to explore the marine sanctuary at $35.00 per two hours. La Jolla Kayak has been operating from La Jolla Shores since 1996 and provides tours of the spectacular coastal cliffs and sea caves along the coast.
Del Mar Surf Rentals
Del Mar Surf Rentals is a full-service beach rental and sales stand, where you can pick up everything you need for a fun day at the beach. They offer great prices on their paddle board rentals starting at just $15.00 per hour.
We hope you get out there and enjoy paddle boarding San Diego! Leave a comment below if you know of a great place to paddle board in the area!