Many do not realize the importance of matching your riding style to the correct mountain bike wheel size. Doing this will not only help your riding, but it can also save you money down the road.
Mountain bike wheels are most commonly referred to by size, which is measured by their diameter in inches. The original standard for mountain bikes used to be 26''. This standard was set many years ago and hasn't changed until recently due to advances in technology. The first new wheel size that came to market was 29" wheels. 29'' mountain bike wheels, often referred to as 29'ers, are actually the same diameter at the rim as the 700c standard you may recognize from road bikes.  More recently, the 27.5'' middle-sized wheel was created and has become increasingly popular. The 27.5'' standard came from European touring bikes and European tandem bikes. It then moved into very small women/children's road bikes before becoming popular in mountain bikes. You may also see this size referred to as 650b. Regardless of where these wheel sizes originated, there are advantages and disadvantages of going to a larger or smaller wheel size.
Advantages of Smaller Mountain Bike Wheels
Strength
A smaller mountain bike wheel is going to be much stronger than a larger one. That is why you don't see many downhill and freeride mountain bikes with a 29" wheel size. This is because the longer spoke design creates less tension, therefore creating less strength. Larger wheels also tend to have more flex. The flex of a larger wheel shouldn't be an issue unless you race downhill or freeride. This is because rim, spoke and hub designs have significantly improved over the last 10 years. The recent Boost 148 development is a great example of improved large wheel stiffness. Research shows that larger wheels will hold up to the majority of mountain bike riders out there.
Better Cornering Mechanics
Most of the mountain bike population has agreed that a smaller mountain bike wheel size provides better cornering in several ways. Smaller wheels will take less movement of the arms to produce the appropriate lean angle required for cornering. There is also less gyroscopic effect of the wheel since smaller wheels are generally lighter. Larger diameter wheels may hold more traction and speed through a corner, but a decrease in the agility and lean angle may be seen as a drawback on a curvy trail. Lastly, cornering at higher speeds can very easily knock a larger wheel out of true due to the increased flexibility.
Acceleration
Smaller mountain bike wheels, all other factors held constant, will pick up speed faster than a larger wheel. Tight and twisty trails requiring you to pedal out of corners will favor a smaller wheel that picks up speed faster.
Advantages of Larger Mountain Bike Wheels
Footprint
With a larger mountain bike wheel, you also get a larger footprint. This simply means that when the tire is on the ground, there is a bigger patch of rubber making contact. Anything that is aided by more traction like braking, cornering and technical climbing is easier with a larger footprint. This doesn't mean that bigger wheels are better at technical climbing or cornering, it means that you'll get more traction relative to a smaller wheel in those situations.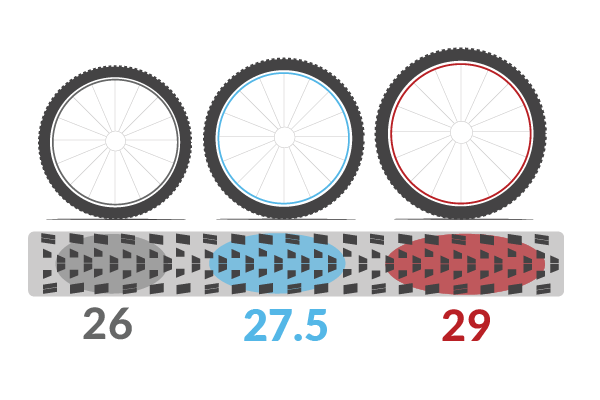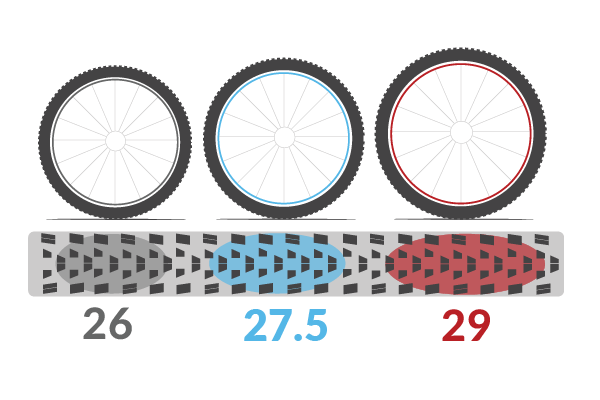 Rolling Over Objects
One of the key arguments for going to a larger mountain bike wheel size is the larger wheel will roll over an object better due to the angle at which the object comes into contact with the wheel. An object is going to hit higher up on a smaller wheel than a larger one, thus creating more of an impact. You may find it easy to imagine which item would roll over a speed bump better, a longboard or a monster truck. The long board will roll over the speedbump successfully, but could cause the rider to crash at higher speeds while the monster truck driver probably wouldn't even feel it. The same idea applies to mountain bike wheels. All other things held constant, larger mountain bike wheels will roll over obstacles and maintain speed on rough terrain better than a smaller wheel.
Other Considerations
Wheels are a major component to any bike and the size of the wheel affects a lot of other things that you may not think of.
Frames
In general, bikes with larger wheels will have longer chainstays, wheelbases and stand over height than smaller wheeled bikes. Engineers must increase the geometry of the frames due to the larger wheel size. If you are shorter than 5'7" and go into a bicycle shop looking for a 29er, you may not have any luck finding one that will fit you. This is because bicycle manufacturers do not always make a size small or extra small as the geometry just doesn't work. Conversely, smaller wheeled bikes have a smaller geometry. Larger men and women may feel very uncomfortable, as the manufacturers cannot make a frame big enough for them.
Suspension
Additionally, suspension components also need to accommodate larger wheels. Forks and rear shocks need to be longer in order to fit larger wheels. As a result, 29'ers tend to have less suspension travel than their 27.5" and 26" counterparts. This is another reason why downhill racers and freeriders tend to flock towards smaller wheel sizes. It is hard to huck a cliff with only 100mm or travel. Full travel 27.5" downhill bikes have recently made their appearance due to technological advances in recent years. You may be able to find a company that makes a 200mm travel 29er, but it is only going to fit a select number of people.
Final Thoughts
The bike that you choose comes down to your preferences as a rider. In general, bigger mountain bike wheels are better for climbing non-technical terrain and riding in a straight line over rough terrain. The smaller wheels tend to be more agile through corners and have more suspension travel. You will soon find that one wheel size isn't necessarily better than the other is, they're just used differently which creates a great reason to buy more bikes!
Like most bike related debates, sometimes the best way to tell which size suits you is to head to the nearest bike shop or demo day for a test ride.
Related Posts