Today's bikes are jam packed full of technology, but they come at a high price. Save yourself a whole lot of cash and buy a used mountain bike.
Finding a Used Mountain Bike
Used mountain bikes are all over the internet, and you will soon find that a few places are more reliable than others. The most popular place to buy a used mountain bike is Pinkbike. All you have to do is create a free account to gain access to thousands of used mountain bikes, parts and accessories. Another great website to find used mountain bikes is the Bike Exchange. You can always search on popular second hand selling websites like Ebay, OfferUp, Mercari and Craigslist but these are not mountain bike specific. You'll have to sift through hundreds of postings before finding what you are looking for.
Getting Started
Before even meeting with the seller you must do your research. Find a bike that suits your price range and riding needs. Most listings always include the bike's general specifications and the asking price. Come up with a fair negotiating strategy and be sure to pinpoint the absolute highest price you want to spend on the bike. If the seller cannot meet your budget, you must keep searching.
If the seller can meet your budget, one of the first questions you must ask the is how long they've had the bike and when was it last serviced. This will give you a good idea of what you are to expect. Most bikes that have been sitting for long periods of time are going to need more work. There is usually a reason the bike hasn't been ridden in years.
The Frame
Mountain bikes are typically ridden pretty hard, so a few stone chips, scratches, and cable rubs are not above the ordinary. However, it is important to look for any cracks in the paintwork. The most common places to look are around the head tube, down tube or top tube junctions. This generally means the frame has taken a beating and may be materially weak.

Headset/Fork
Next you will want to check for any lateral movement in the headset. This can be done by holding the front brake and rocking the bike forwards and backwards while both wheels are on the ground. Any lateral movement here means you may need to tighten or repack the headset. You will also want to lift the front wheel off the ground to make sure the handlebars move smoothly while turning. Any tension here means the headset is too tight and needs adjustment. It can also mean the headset is rusty and will need to be replaced. Visually make sure you cannot see any rust around the headset and that all dust covers are still in tact.
Next you will want to check the seals on the fork. A little bit of oil on the stanchion tubes is normal. A black grungy mess means the fork needs servicing. Push up and down on the handlebars to make sure the fork operates correctly. Finally, check the stanchion tubes for any large dings or scratches.
Drivetrain
Up next is the drivetrain. This is one of the most important parts of a bicycle and can also be the most expensive to replace if necessary.
Although not a detrimental problem, the drivetrain should appear clean and not a grungy, oily mess. Obviously, you are going to want to take the bike for a quick test ride to check that the shifting is crisp and smooth. Be sure to run through all the gears and apply some force to your pedal stroke. Mountain bikes are designed to withstand under force and ones that skip or shift incorrectly are not adjusted right. If possible, bring a chain checker with you when buying a used mountain bike. A chain checker allows you to see how stretched and worn the chain really is within seconds. Even a worn chain and cassette can give you clean shifting but may still need replacing sooner than you think. As stated above, a worn out drivetrain can be one of the most expensive things to replace if needed.
Check out this post to see what other tools you may need to acquire after you buy a used mountain bike. You can also learn how to lubricate your chain once you buy a used mountain bike here.
You will also want to inspect the front chain rings. Make sure all the teeth are in tact and have not been used as a bash guard for rocks, logs, and other objects. Finally, you will want to check for any lateral movement in the bottom bracket. You can do this by grabbing the two crank arms and pulling them side to side. Any lateral movement here means the bottom bracket is either loose, or needs replacing.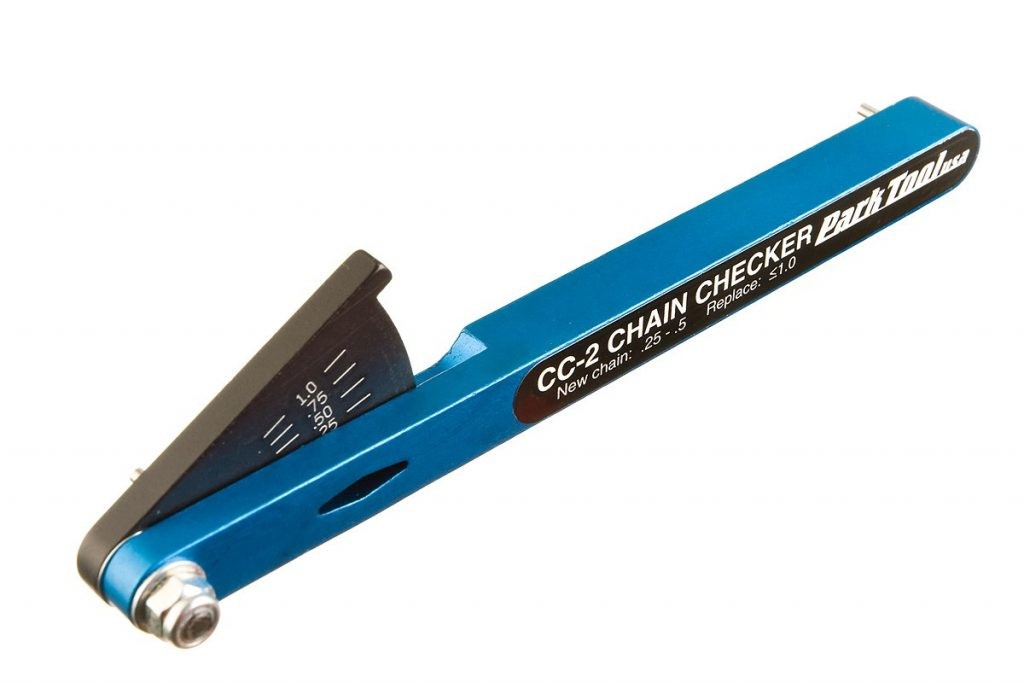 Disc Brakes
The next thing you will want to check is the brakes. Squeeze the brake levers and make sure they are firm. If the brakes are too soft or spongy they most will likely need to be re-bled. Be sure to check the rotors to make sure they are not excessively worn and contain a groove. You also want to see how true the brake rotor is. You can do this by spinning the wheel and using the caliper as a reference. If the disc is wobbly or rubbing inside the caliper, this is a sign it may need to be replaced. Do not worry if you hear the brakes rubbing but the disc looks straight. The brake caliper just needs some minor adjustments. Lastly, take the wheel out and look inside the brake caliper to make sure the brake pads are not worn down to nothing.
Wheels
The first and easiest thing to check is to see if the rim is true. You can do this by resting your finger on the chain stay and spinning the wheel. The rim should always stay an equal distance away from your finger. It is important to note that a little movement in the tire is ok. This doesn't mean the rim is out of true, this simply means the tire isn't seated on the rim correctly.
Next you will want to check for any lateral movement in the wheel bearings. This can be done by grabbing the top and bottom of the wheel and pulling it side to side. Any lateral movement near the hub means the bearings or axle may need to be tightened or replaced. If you notice that the wheel isn't spinning freely or hear a grinding noise, this also means the bearings or axle are worn and may need to be replaced.
Finally check the spoke tension. This can be done by squeezing every couple of spokes just to make sure they have an even tension. Check out this post if you are interested in learning about the different mountain bike wheel sizes.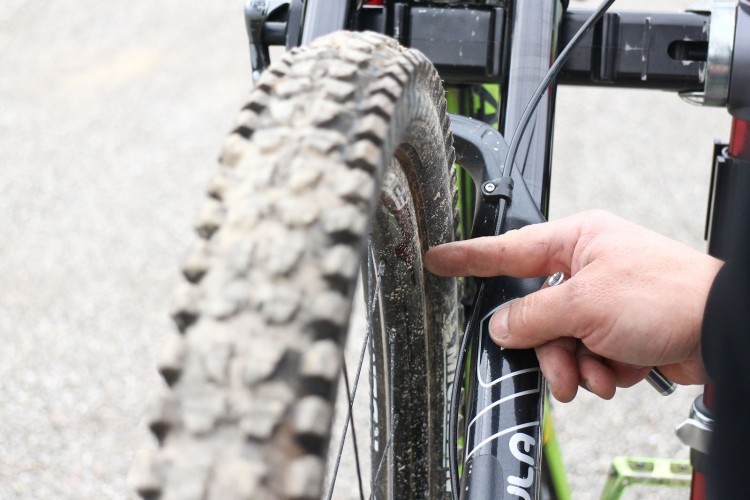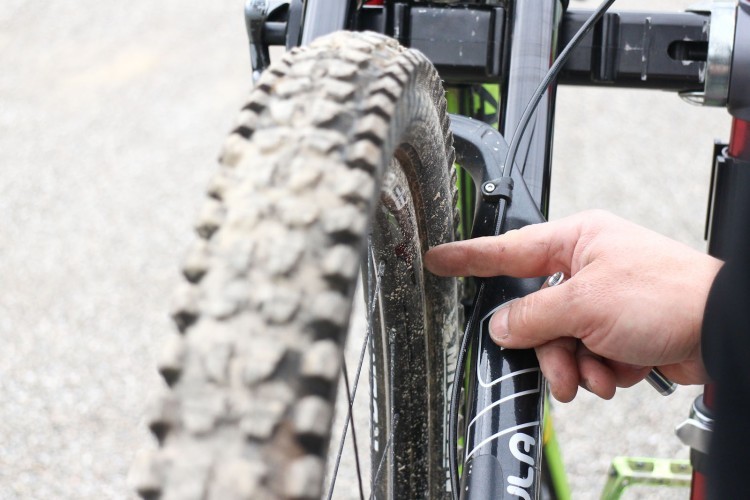 Make Sure it isn't Stolen
BikeRegister and BikeIndex are useful sites to check for stolen bikes and to register a bike after you've bought one. Ask to look at the serial number and plug it into either website. If it's not stolen, the seller should have no problem with this. If the seller doesn't know much about the bike, or mountain biking in general you  may want to reconsider purchasing from t his seller.
A Few Other Quick Checks
If the handle bars are carbon, any deep scratches  in the carbon will weaken them and could be a safety concern. Also, be sure to check the saddle rails to make sure they not bent from crashing. If all looks well, then you've got yourself a bargain. Close the sale so that you get can out and ride.
Related Posts