Not only is mountain biking fun, but it is also a great way to stay fit. It is also much better for your joints than other options like running or weightlifting. There is nothing better than flying down the trail, with adrenaline pumping through your veins and the wind blowing in your face.
If you are new to mountain biking, then you will need to spend some time researching the type of riding that interests you the most. This is because different disciplines of riding require different mountain bike components. It is important you purchase a mountain bike that will fit your riding needs. You will find that there are thousands of models available from many different brands.
As you become more experienced, you may find yourself wanting to venture into a new discipline. At this point, you may need to look into another mountain bike. There is nothing wrong with this, as you can never have enough bikes, right?
The same goes for mountain biking gear. It is important to purchase the right type of gear for the type of mountain biking that you will be doing. Eventually, you may need to upgrade your gear as you get more experienced. Whether you are new to the sport or looking to upgrade your gear, this guide should cover everything you need to know about what to wear mountain biking.
The Best Materials for Mountain Biking Clothes
Clothes that use materials such as spandex, nylon, wool, and polypropylene are the best option when mountain biking. This is because these materials keep your skin dry by pulling the moisture to the surface of the clothing.
You want to avoid cotton at all costs, especially when it is cold outside. This is because cotton absorbs moisture. The build-up of moisture can make your shorts and under-garments bunch up and cause discomfort when riding. You may also find your shirt starting to creep up your back, especially if you are wearing a backpack.
While a sopping wet t-shirt in the middle of the summer is nothing more than an irritation, wet clothing on a cold winter day could result in the onset of hypothermia. This is especially true if you have to wait outside in the cold with wet clothes for any period of time. Synthetic materials will always be your best bet when shopping for mountain bike clothes.
Shorts
Mountain biking shorts have changed throughout the years. You used to see a lot of mountain bikers wearing tight spandex shorts with the pad inside, similar to those you find for road racing. Unless you race cross-country, this type of mountain bike short just isn't cool anymore. Not only do these look kind of funny, but they also aren't very comfortable to wear unless you are on the bike.
Nowadays, no matter the discipline, you'll mostly see mountain bikers wearing baggier shorts with a lot of pockets. They are usually made from a lightweight, moisture-wicking material. Some are even said to be waterproof which can be helpful if you find yourself riding in rainy conditions often.
Not to worry, a lot of manufacturers still include the pad for those who are on the saddle for longer periods of time and need extra support. Some padded shorts even come with removable liners, allowing you to tune your wardrobe to your riding conditions.
It is best to avoid using regular shorts, especially those made from cotton. As stated above, cotton absorbs moisture, and your shorts and undergarments will start to bunch up towards your crotch as you ride. The moisture can also cause chafing on your inner thighs.
Check out this post for a great pair of mountain biking shorts that won't break the bank.
Jerseys
Like mountain bike shorts, mountain bike jerseys have also changed throughout the years. You used to see a lot of mountain bikers wearing tight-fitting jerseys, similar to those you find for road racing.
If you are racing cross-country or riding trails with a lot of brush, tighter versions of cycling jerseys will be your best option. Most are made out of a breathable, moisture-wicking material that helps keep sweat off of your skin. Some jerseys also feature a zipper on the front. This allows for more airflow to move into your jersey, keeping you dry. These jerseys also come with back pockets for storing your essential items while riding.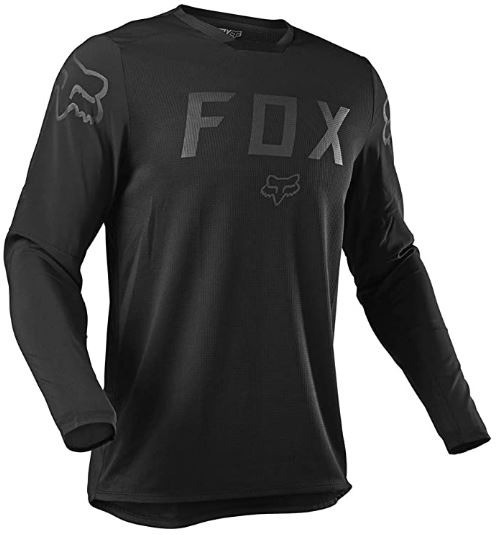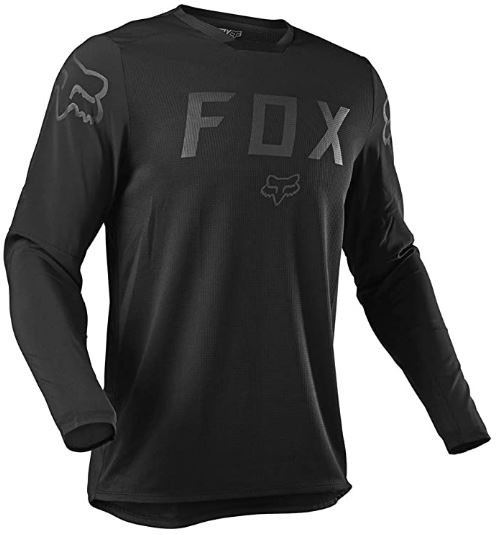 These days, loose-fitting, motocross-style jerseys are much more popular among mountain bikers, especially among the enduro and downhill disciplines. They are typically long sleeve and are made from the same breathable, moisture-wicking material as the tight-fitting jerseys. Not only do they look much cooler than the tight-fitting jerseys, but they also offer more protection if you crash or brush up against something.
Gloves
Gloves are an extremely important part of mountain biking as they add padding and comfort on longer rides and help protect your hands if you crash.
The biggest difference between gloves made for road biking and gloves made for mountain biking is the finger length. You will notice that the tips of the fingers are exposed in road biking gloves, while mountain bike gloves have full finger lengths. This is mainly to add a little more protection if you happen to take a spill. Another difference in mountain biking gloves is they usually have additional padding around the palm of the glove. This additional padding is ideal for longer rides over rough terrain.
You will find that some gloves come with plastic or carbon fiber shells on the knuckles. This is to add even more protection for enduro and downhill riders.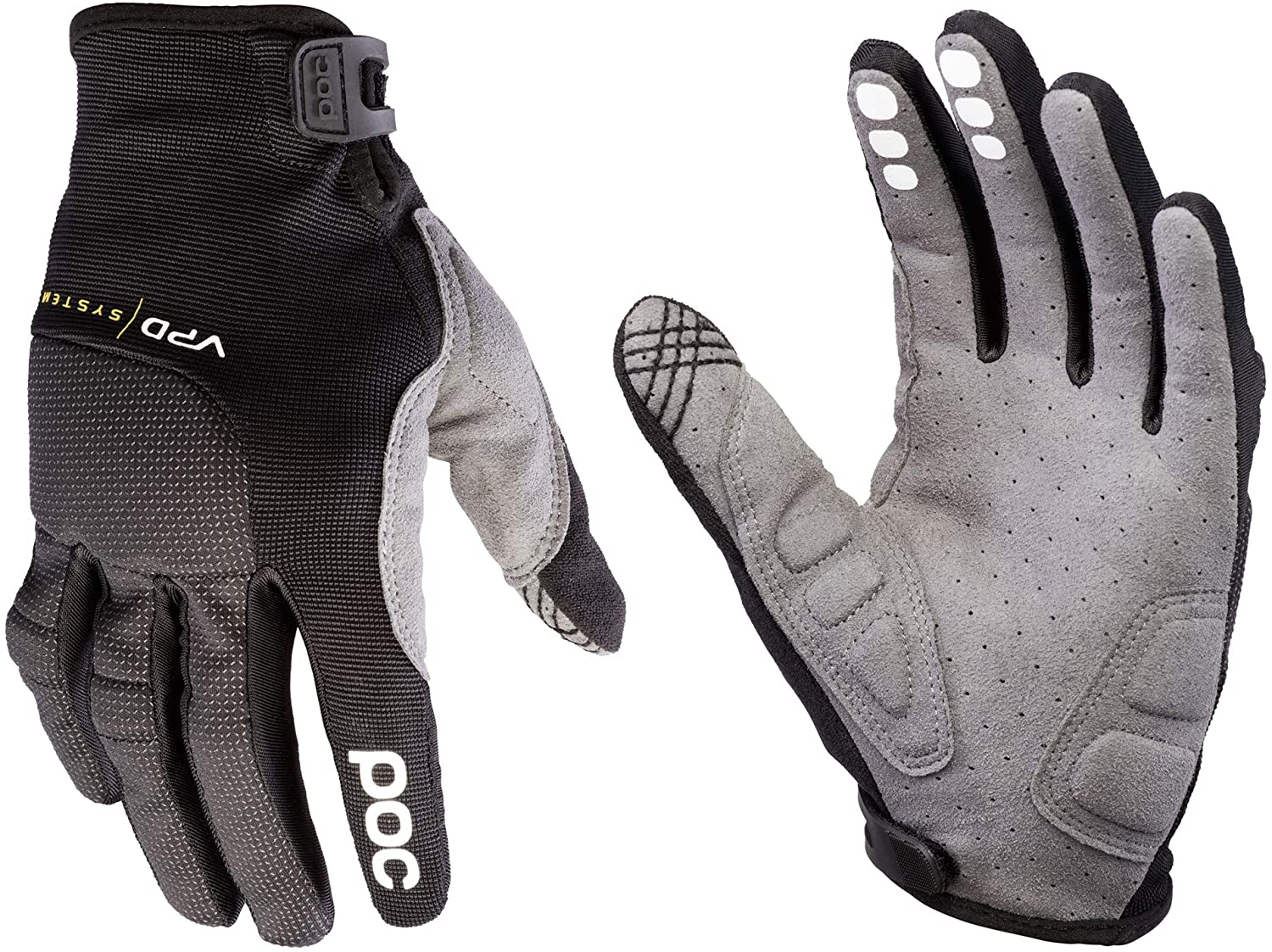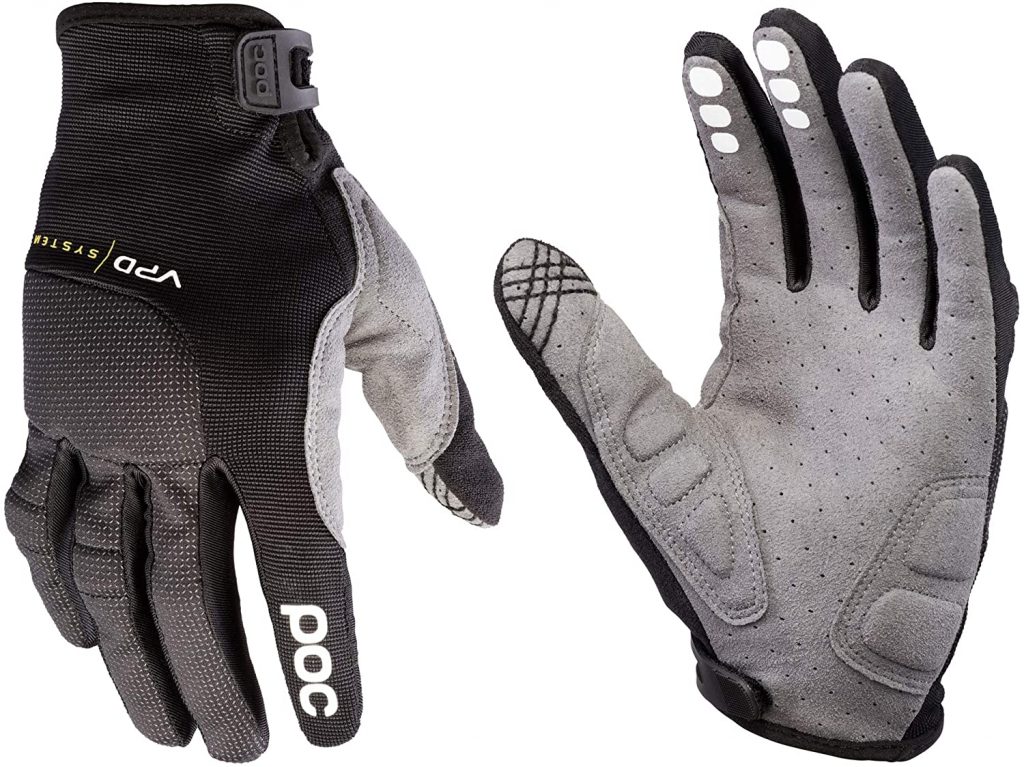 POC makes some of the best mountain biking clothes and accessories in the industry. Their Resistance Enduro glove is a great choice for most mountain bike riders. Check out their Resistance Pro DH glove if you are looking for a little more protection.
Footwear for Mountain Biking
Shoes are a critical component of your mountain biking gear. There are a lot of different styles and brands on the market for you to choose from. Before you can decide on the perfect shoe, there are a few things you must consider.
Types of Pedals
You must first decide on the type of pedal you are going to use before you can decide on the type of shoe. This is because some shoes feature cleats that clip into the pedals, while other shoes have a flat sole for use on platform pedals.
Clipless Pedals
It is important to understand that when someone says "clipless pedals" they actually mean clip-in pedals. They were named clipless pedals decades ago to distinguish them at the time from another style of pedal called "toe clips".
Clipless pedals work by mounting a small plastic or metal cleat on the sole of your shoe. This cleat typically snaps into a set of spring-loaded "clips" on the face of the pedal.
Clipless pedals allow you to fly through bumpy sections of trail without the worry of slipping a pedal. They also allow you to apply more power when climbing. This is because can you exert more downward force without your foot slipping off, and you can also pull up using your quadriceps at the same time.
Shimano M520 Clipless Pedal
Shimano's M520 clipless pedal is one of the most popular clipless options on the market for mountain bikers. This is because they are extremely durable and sell at an affordable price.
The pedal offers double-sided entry which makes it much easier to clip-in when you are in a hurry. Another great thing about the M520 pedal is that the release tension is adjustable. This is good for a beginner as it makes it easier to get in and out of the pedal. As your skill level increases, you can increase the tension, keeping your feet more secure.
The cleats are included when you purchase the M520 pedals and they will fit almost any shoe. This helps cut down the cost as you don't have to spend more money to purchase cleats.
One disadvantage of using clipless pedals while mountain biking is that if you are going to crash, it is nearly impossible to unclip your feet before going down. This will intensify what used to be considered a small crash.
Another disadvantage is that shoes used for clipless pedals are not really made for walking. The soles are much stiffer than regular shoes and they are just flat out uncomfortable to walk in.
Mountain bikers find themselves dismounting their bikes to walk around challenging or muddy sections of the trail quite often. Not only can the cleats get ruined from walking over rocky terrain, but they can also get mud and debris stuck in them. This can make it extremely hard to clip-in again.
Lastly, it can also take some practice getting in and out of these pedals, but once you get the hang of it they'll feel like second nature.
Platform Pedals
Platform pedals are similar to the ones you probably had on your first bike. They are double-sided and provide a stable, wider surface to support your feet. The great thing about platform pedals is they can be used with any shoe.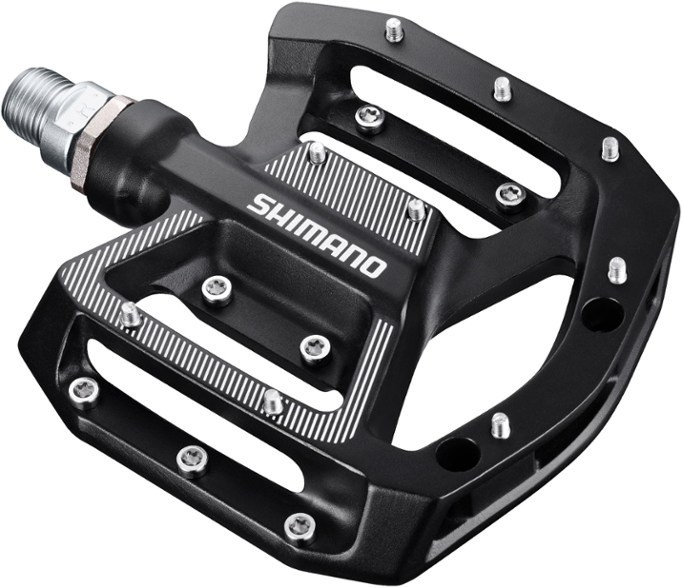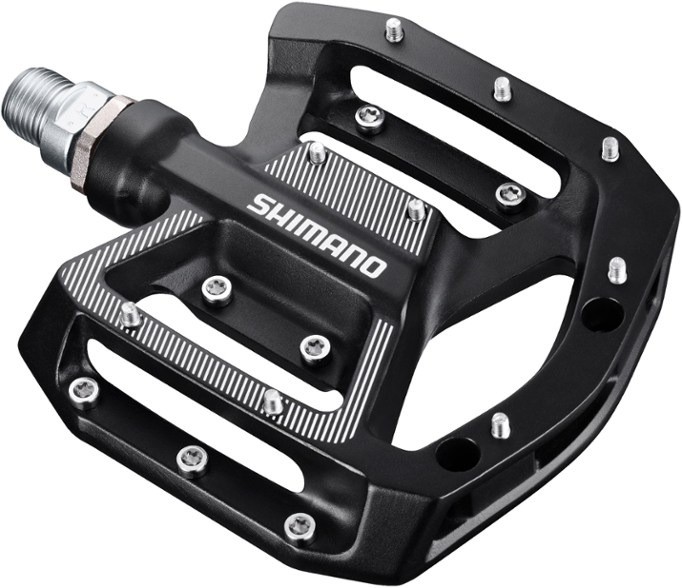 Shimano GR 500 Platform Pedal
Sticking with Shimano, the GR 500 pedal is one of the best platform pedals on the market. The platform is made from lightweight aluminum, while the spindle is made from Chromoly steel. They also include height-adjustable, replaceable pins that help grip the bottom of your shoe while riding.
Many downhill mountain bikers prefer this type of pedal paired with a shoe that has a grippy sole. This combination provides enough grip and control, while also allowing the rider to bail from their bike in the event of a crash. Also, downhill mountain bikers tend to dismount their bikes more frequently. A shoe that is grippy and easy to walk in will be beneficial to this type of riding.
Worn by Danny Macaskill, Five Ten shoes are one of the most popular shoe brands for downhill and enduro riders. Although there are a lot of different models available, they all come with a rubber outsole that sticks to platform pedals like clips. They are also made with extremely durable material to help resist weather and abrasion. Not only are Five Ten shoes a great choice for downhill and enduro riding, but they also provide the comfort and style to function off the bike as a casual shoe as well.
Waterproofing
Getting your feet wet while riding can lead to the formation of blisters. It may be a good idea to look for shoes that offer some sort of waterproofing. Shoe covers also work great for protecting against water. Most shoe covers slide over the top of your shoe and are secured with Velcro.
Helmets for Mountain Biking
A helmet is arguably the most important part of your mountain biking kit. Crashes are inevitable while mountain biking and if you choose to wear minimal protection gear, the helmet better be above all else.
Helmets probably have evolved the most throughout the years, besides the mountain bike itself. There are a bunch of different styles of helmets for mountain biking. The style you choose should cater to the type of riding you do the most.
Cross-Country
These helmets typically have a similar look and feel to road helmets. If you're a cross-country rider who enjoys rolling hills with wide-open scenery and not a lot of objects to crash into, ventilation and weight will be your top purchasing considerations. The Spark helmet by Bell Sports meets all the requirements for a great cross-country helmet.
Trails
The technical challenges that face the rider require a bit more protection than a standard helmet. Helmets used for riding trails typically have excellent coverage around the back and sides of your head like the Sixer helmet by Bell Sports.
Enduro
If you want a full-face helmet that you can climb in, you'll need to decide if a removable or fixed chin guard is the right call. Removable guards offer superior ventilation and clearance for spitting or drinking from a water bottle, but they can be a slight hassle to stow on your pack and fumble back into place on the helmet. The Super 3R MIPS helmet by Bell Sports offers a removable chin guard and great ventilation. Although a little pricey, this helmet meets all the requirements for a great enduro helmet.
Downhill
If you like to take chairlifts and shuttle rides to the top of your descents and avoid uphill pedaling at all costs, purchasing a full-face helmet should be your priority. Don't forget to look into one with great ventilation as full-face helmets will make you sweat on hot summer days. The Super DH Spherical helmet by Bell Sports is a great option for downhill riders.
Bell Helmets have been around for decades and offer some of the best protection in the industry. You will also notice that they are fairly priced. Most of their helmets incorporate spherical technology powered by MIPS which is extremely important to have when mountain biking. This technology helps redirect impact forces which help reduce brain injury. Check out this article for more information.
Eye Protection for Mountain Biking
There are enough challenges to deal with when you are descending at high speeds. The last thing you want to worry about is having a bug or other debris fly into your eyes. If something were to come in contact with your eyes at high speeds, not only do you run the risk of permanently damaging your vision, it may also cause you to crash.  Also, when you are descending at high speeds, the wind from the speed alone can dry out your eyes, making it hard to see.
Wearing protective eyewear during your ride keeps the wind and debris out of your eyes, allowing you to focus on the trail in front of you.
Your best option is to purchase sunglasses that fit snugly on your face. The snug fit will not only help keep wind and debris out, but it will also keep them in place. If you have some spare cash lying around, it is always a good idea to invest in a pair of sunglasses with polarized lenses. As you may already know, polarized lenses significantly increase the price, but they offer more UV protection than regular lenses and reduce glare.
As mentioned above, downhill and enduro riders typically wear full-face helmets. Although sunglasses will work with full-face helmets, most riders choose to wear goggles. They offer the best protection from wind and debris and are usually pretty comfortable.
Lens Color
If you typically ride tree-covered trails or live in an area that gets a lot of rainfall, it may be a good idea to choose a goggle or sunglasses with a lighter or even clear lens. If you are riding in the desert or at higher altitudes, be sure to choose a darker lens with more UV protection. Polarized lenses are always the best option if you have some spare cash to spend.
Armor for Mountain Biking
If you are a weekend warrior, then you probably won't need any padding or armor on your ride. Padding and armor are mainly for downhill and enduro riders. This is because of the terrain they typically ride and the speeds at which they ride this terrain.
It is important that they are wearing the necessary protective armor to prevent serious injury from occurring during a crash.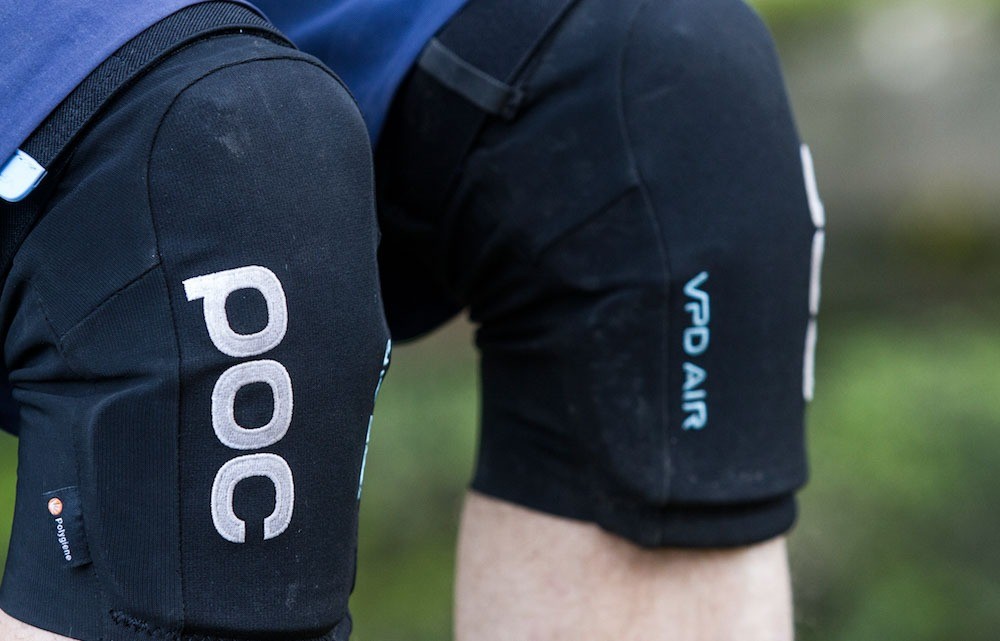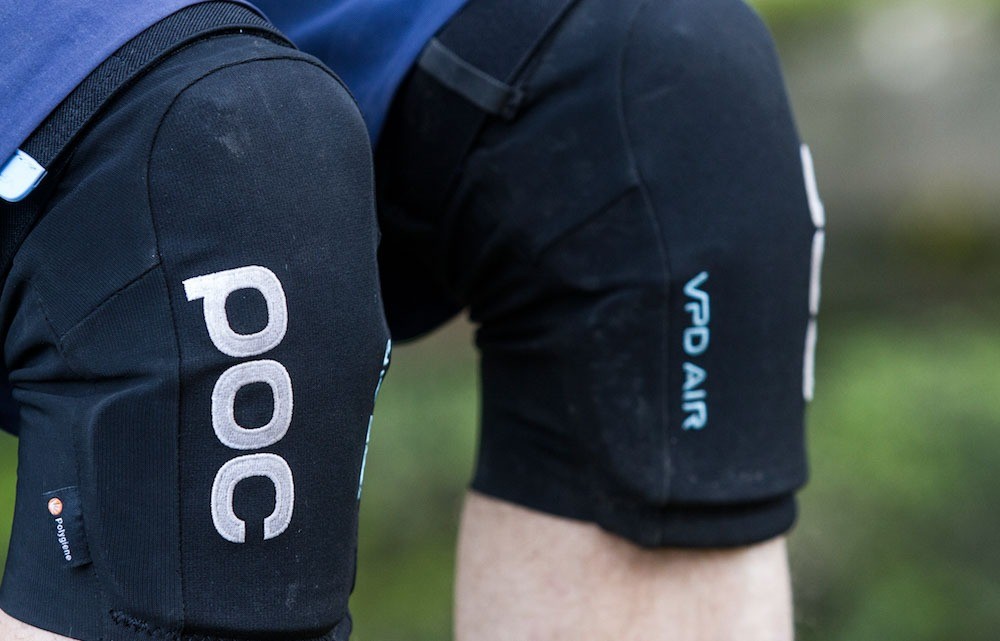 POC Knee and Elbow Pads
POC Sports makes some of the best mountain bike armor in the industry. Not only is it some of the best, but it is also worn by professionals like Fabio Wibmer. The VPD Air line offers lightweight and flexible knee and elbow padding that is barely noticeable when riding. It is ideal for riders who enjoy the freedom of movement and reliable protection. The VPD Air line is also highly ventilated for temperature control. The knee and elbow pads stay securely in place thanks to an inner lining of anti-slip neoprene and an elastic strap with a Velcro fastening.
POC Chest and Back Pads
The VPD System Torso is a great option for chest and back protection. It is flexible, lightweight, and offers outstanding ventilation. It also delivers exceptional impact absorbency for the worst of crashes. If you don't feel the need for both chest and back protection, you can just buy the VPD System Chest or VPD System Back.
Packs for Mountain Biking
Most riders can benefit from the use of a backpack while out on the trails. A backpack will help you carry all your essential items. These items can include tools, extra tubes, snacks, sun protection, etc. The list of essential items varies depending on the rider's personal preference and the type of riding you will be doing. Downhill riders typically don't use backpacks as they are usually more of an annoyance than a benefit.
Most of you have probably heard of a CamelBak as their use goes well beyond mountain biking. If you are unfamiliar with CamelBak's, they are basically a backpack with a bladder inside them. They are used to hold your essential items depending on the size you purchase, as well as any type of fluid. A tube and a mouthpiece come out the top of the pack and down the shoulder straps. This allows riders to easily access water, or whatever else you wish to put in it, without taking your hands off of the handlebars.
CamelBak's come in many different sizes and colors. If you are going for a shorter ride close to home, the 50-ounce CamelBak will probably be your best bet. It is extremely lightweight and conforms to the body well. Sometimes it's hard to tell it's even there.
If you are planning to spend a full day on the trails, you may need a bigger pack to carry more. Any of the 100-ounce packs will be sufficient. The only thing you'll have to decide is the amount of extra space you'll need for your essential items.
As a pro tip, try to match the color of your CamelBak with the rest of your gear.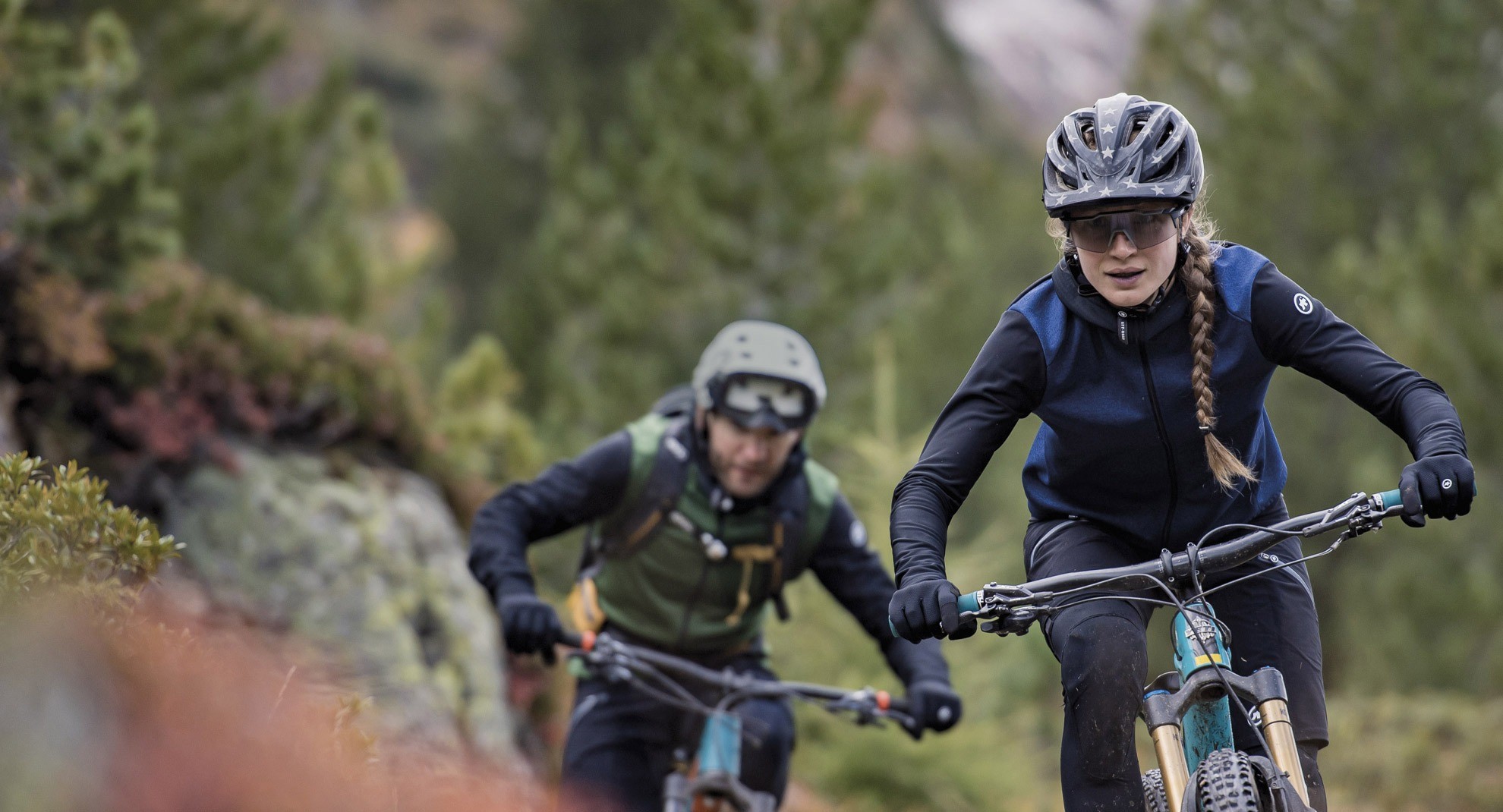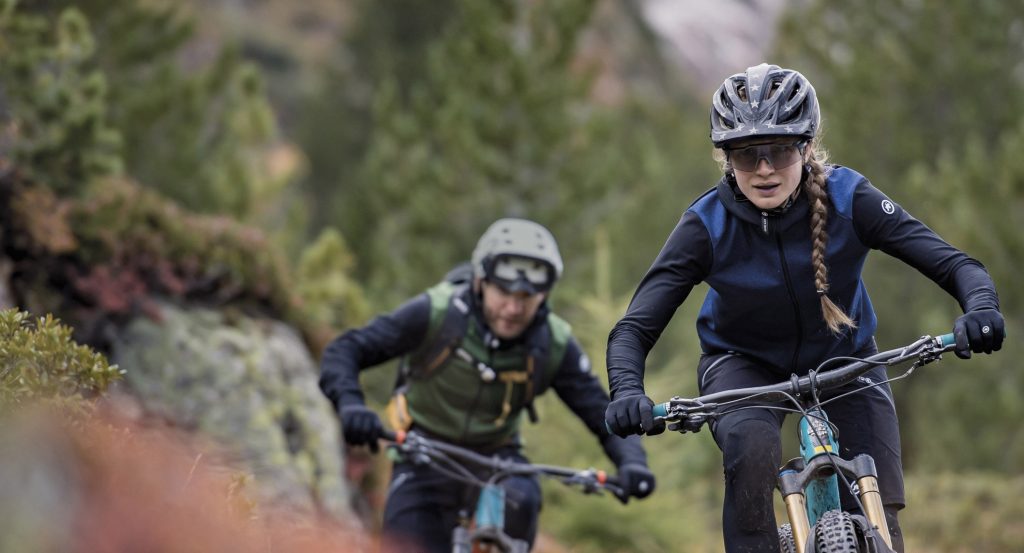 Essential Cold-Weather Mountain Bike Clothing
If you live in a colder region of the United States, you can extend your riding season by purchasing some cold-weather gear. There are just a few essential items that will really make a difference once the temperature starts to drop.
Gloves
Your regular mountain bike gloves probably won't cut it on really cold days. You are likely going to need to purchase something that will keep your hands warmer. Consider gloves that are not too bulky as this creates a loss of dexterity. You want to make sure you can comfortably grip the handlebars and use your shifters and brake levers.
You may also want to consider gloves that are wind and waterproof to help keep out the elements. The gloves cuff is also something to consider. A cuff that is loose-fitting and/or stops at the wrist won't do as good of a job as one that is longer and/or has a snug fit.
POC has a couple of great winter mountain bike gloves that will help keep your hands warm.
Jackets
The two most important factors when selecting a jacket for mountain biking are weight and waterproofing. You want to choose a lightweight jacket that offers waterproofing protection for riding in the rain.
If you purchase a jacket that is too heavy, not only will it restrict your riding, you'll find yourself taking it off sooner than later. This is because your body heats up once you are a couple of miles into your ride.
If breathability is an important factor to you, look for jackets that have zippers under the armpits as this will add airflow. If you are looking for a hooded jacket, make sure the hood is large enough to go over your helmet.
A featherweight shell jacket that packs down into your CamelBak is a great option for those of you who live in less cold regions of the country.
Leggings and Pants
Wearing tights under your shorts on a cold day will help keep you warm. If you feel tights are too restricting, you can look into buying mountain bike pants. These are popular for downhill and enduro riders as they offer warmth and added protection.
If you end up going with the tights, be sure to choose a brand that offers a fleece lining for added warmth. You can also look for tights with a pad inside if you are spending more than an hour or two in the saddle.
Final Thoughts
Before you go out and purchase gear, you need to decide on the discipline you enjoy most. If you are unsure, ask if you can borrow your buddies' bike, or see if you can rent one from your local bike shop. Also, be sure to set a budget when shopping for new gear. You will find that mountain biking gear can get pretty pricey and it is important to only buy what you can afford.