Pour over coffee has become extremely popular. This is because there's nothing more rewarding or refreshing than fresh coffee in the backcountry. With the three pour over coffee sets below, you can unlock all the flavor and aroma of your favorite coffee no matter where you find yourself.  Pour over coffee sets are a great option for camp coffee because they are simple and easy to clean, while still allowing you to make a great cup of coffee on the go. While all three of these are pour over systems, the one that's best for you is going to depend on your coffee preference, the type of camping that you are doing, and materials.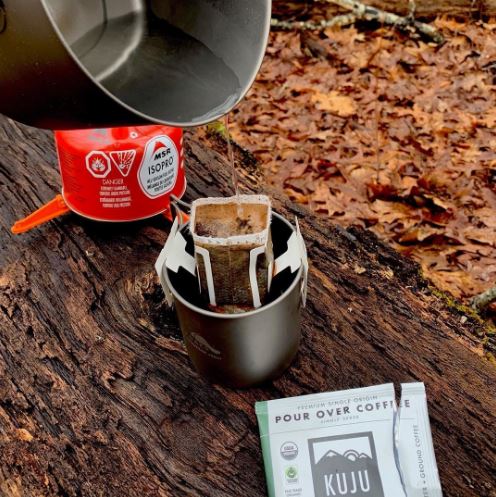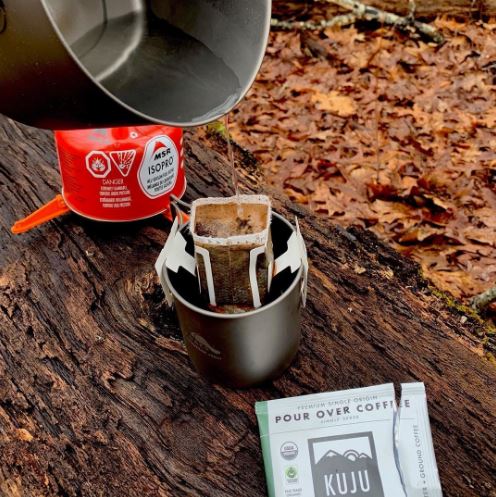 Kuju Coffee was started by two Eagle Scout brothers who were tired of the usual camp coffee. It is hard to make a great cup of coffee while camping. Many have to settle for store bought bottles, to percolators, to instant coffee packages. These two brothers set out to create something that was simple, different, and included high quality coffee. While they now offer a lot of different coffee products, they are most famous for their Pocket Pour Overs.  Not only do they have a really cool name, they are also extremely easy to use. All you have to do is pull the filter out of the packaging, shake to loosen the grounds, pull the perforation off the top of the filter and pull the anchors out from the sides so you can place on your cup. After that, all you have to do is pour your hot water over the grounds (200 degrees fahrenheit recommended) and watch your cup of coffee brew!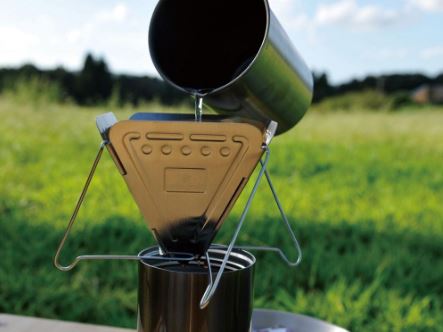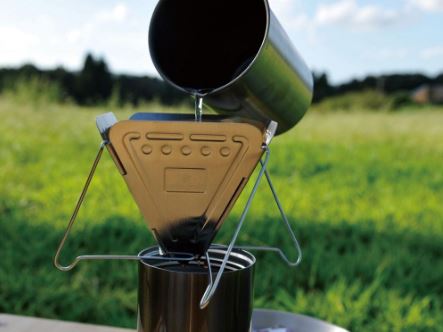 Next up we have the SnowPeak collapsible pour over set. SnowPeak is known for their minimal design and thoughtful use of materials. SnowPeaks pour over set is by far the easiest to transport while camping or traveling. You will need to bring #4 filters along as you cannot use this pour over set without them. First you'll place the collapsible pour over set on top of your cup of choice with the filter already inside. After that, all you have to do is add your grounds, pour your hot water over, and watch your cup of coffee brew.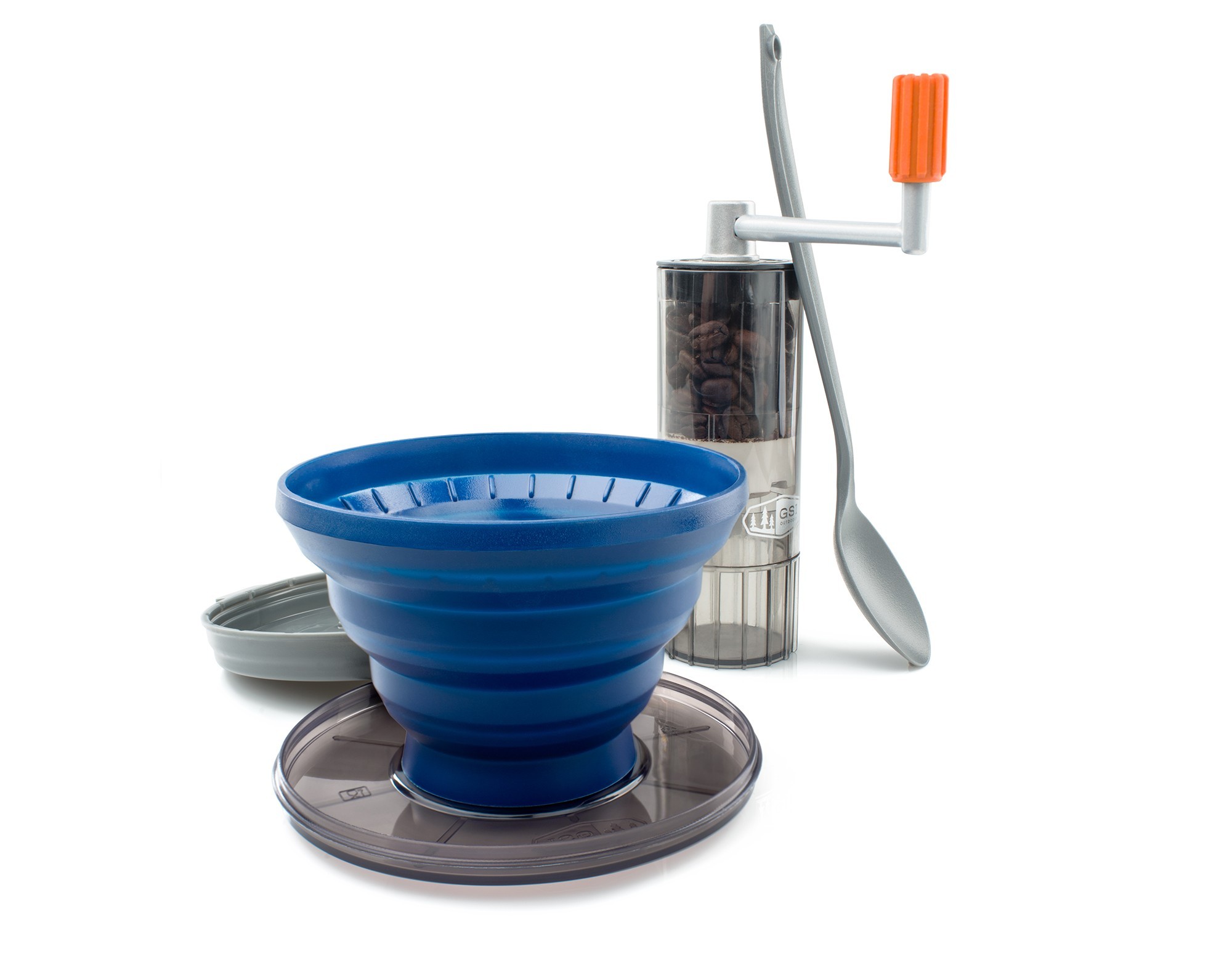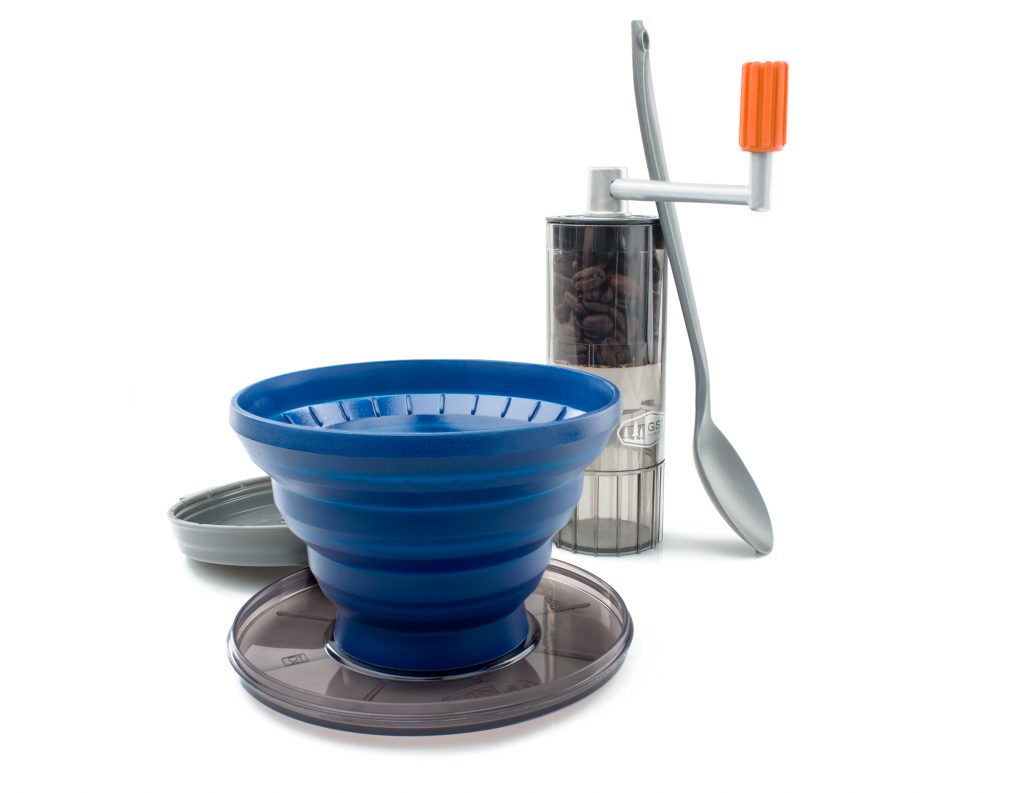 The last pour over set on the list is the GSI gourmet java set. Not only is this one the last, it is also the most expensive. The price increase is because the GSI gourmet set also comes with a coffee grinder. The best thing is the coffee grinder is really easy to set up. You don't need to worry about charging or batteries because this grinder is a manual operation. Once you have ground coffee, you'll pop up the expandable cone and place it on top of your cup. Then, you'll add your #4 coffee filter, grounds of your choice, and hot water to the expandable cone. Your coffee will then start brewing right in front of you. For those of you who are true coffee lovers, the GSI gourmet set definitely makes the tastiest cup of camp coffee.
Choosing the right one for you
Since all of the pour over coffee sets are really easy to use, it is important to focus on the kind of travel you will be doing, the type of coffee you want, and your desired materials. Focusing on these three things will help you find the perfect fit. Overall, my personal favorite is the SnowPeak collapsible pour over set due to its design and easy packing capabilities. For colder weather, the GSI is going to be better because the collapsible cone can also act as a lid.  This is helpful when you are doing the pour over process because the heat is trapped inside the cup. For anyone that is concerned about pouring hot water over plastic, just know that GSI is BPA free. If that is still an issue for you, the SnowPeak will be your best bet.
If you are looking for the easiest to transport and the most lightweight, the Kuju is probably going to be your best bet. Keep in mind that the Kuju does produce the most trash. This can be a concern if you are backpacking and have to pack that out as well. For those of you that are looking for the freshest cup of coffee, the GSI is by far the leader. This is due to its coffee grinding capabilities. It is not that much extra weight and makes some awesome camping coffee. Each of the price points are approachable, and what it really comes down to is which system works best for you.
So there you have it, three camping pour over coffee systems for your next cup on the go. Hope you enjoy!