Hidden deep in the San Juan Mountains of Southern Colorado is Ice Lake Basin. Ice Lake Basin presumably received its name as a result of the lake freezing over during the winter; however, it could just as well be from the ice blue color of the water itself when the sun shines on it. The Silverton area boasts a number of great day hikes but none can compete with the sheer scenic beauty of Ice Lake. Combine the color of the lake with the outstanding mountain scenery and you have one of the best hikes found just about anywhere.
Important Details
Distance: 7.0 miles round trip to Ice Lake
Time: 6 – 8 hours round trip
Elevation: 9,840 ft. at the trailhead; 12,270 feet at Ice Lake
Elevation Gain: 2,430 ft.
Difficulty: Moderately strenuous
Best Time of Year to Hike: Late July – August
Dog Friendly: Yes
Fees/Permits: None
Driving Directions to Ice Lake Basin
The hike to Ice Lake begins from the South Mineral Campground in the San Juan National Forest near Silverton, Colorado. From Silverton's Visitor Center, drive 2 miles north toward Ouray on Highway 550 (the Million Dollar Highway). Look for the turnoff to South Mineral Campground on the left-hand side between mile markers 72 and 73. The road is called Forest Road 585/Country Road 7/South Mineral Road. Follow the gravel road for 4.4 miles to the trailhead parking area on the right side of the road. The trailhead parking is right across from the South Mineral Campground. This road is suitable for two-wheel-drive vehicles, although you may have to avoid a few potholes. It is also important to note that South Mineral road (FR585/Country Road 7) is not plowed during the winter so you'll need to plan accordingly.
Parking
Hikers should note that parking for Ice Lake is very limited. You'll need to plan on arriving early in order to secure a parking spot. If there are no parking spots available, the national forest asks that you wait for a spot to open or choose to hike another trail in the Silverton area. Do not park in the meadows along the road or in the campground across the road. Hikers should note that citations have been issued for illegal parking and they are expensive. It is also important to note that the restrooms in the area are for paying campground guests only.
Altitude
The trailhead begins at 9,840 feet and climbs up to 12,270 feet at once you reach Ice Lake. If you have the energy to continue on, Island Lake sits at 12,390 feet of elevation and Fuller Lake at 12,609 feet. Altitude sickness can strike above 8,000 feet. High elevation can cause nausea, confusion, headaches, and dehydration. It may be a good idea to consider spending a couple of days in Silverton (9,318 ft.) to get acclimated if you are traveling from low elevations.
Camping/Lodging
As stated above, the trailhead starts just across the road from South Mineral Campground. This campground consists of 26 first come first served campsites. The campsites are well-spaced and offer plenty of privacy. They also include picnic tables, fire grates, composting vault toilets, trash disposal, and potable water. There are no electrical hookups.
If you want to stay in a hotel, Silverton has a few options. Please note that Silverton is a very small town and it may be best to drive to Ouray or Durango for more hotel options. The Ice Lake trailhead is only 40 minutes from Ouray and Purgatory Resort and a little over an hour from Durango.
Trail Description
The trail starts by wandering through a thick conifer forest and wastes no time gaining elevation. You will quickly come upon numerous switchbacks that gradually climb up the side of the mountain. The trail gains 1,600 feet of elevation in the first two miles, but don't let that scare you. Once you reach Lower Ice Lake Basin, it flattens out before climbing the last mile up to Ice Lake. After roughly a half-mile into your hike, you'll have to shimmy across Clear Creek on a rickety log footbridge. If you look upstream from the bridge you'll see a nice waterfall cascading down.
At the one mile mark, you will reach a very short spur trail on the right that leads to a close-up view of that same waterfall. Roughly a quarter-mile past the waterfall, you'll reach another short side trail, on your left, which leads to the remnants of an old mining operation. The spur trails leading to these two attractions are better left to explore on the way down to avoid being caught on the exposed part of the mountain during an afternoon thunderstorm.
As you continue to ascend to the Lower Ice Lake Basin, don't forget to take in the views of the surrounding mountains. They are outstanding.
Lower Ice Lake Basin
At roughly 2.2 miles in and an elevation of 11,400 feet, you'll reach Lower Ice Lake Basin. At this point, the trail emerges from the cover of the forest and opens up to a mellow meadow section. This section is fairly flat for the next two-thirds of a mile. It meanders through lush greenery with wildflowers everywhere during late July and early August. Some of the most common wildflowers you will find are Columbines, Larkspur, Chiming Bells, and Aspen Daisies. Depending on the amount of snow received, you may also see more waterfalls cascading down from the sides of the mountains off in the distance.
It is important to note that from this point forward you will be exposed to the elements. Please take the necessary precautions to stay safe.
At almost 2.5 miles in, hikers will pass Lower Ice Lake about two hundred yards to the left of the trail. You can't actually see the lake, and the trail doesn't visit it, but it is obvious something is there. Lower Ice Lake can be mistaken for Ice Lake if this is your first time hiking this trail. At this point, Ice Lake can't be seen as it is another mile up and to the right of the trail.
Final Ascent
At roughly 2.9 miles hikers will cross another stream without the benefit of a footbridge and start the final ascent to the upper basin. There is the potential to get your feet wet if the water levels are high as you must use large, exposed rocks to cross this stream. The last bit of trail is steep and strewn with loose gravel and large rocks. This section of the trail can be really slippery when wet.
At roughly 3.5 miles you'll finally reach the upper basin. A little further up the trail, you will see Ice Lake. The alpine lake is nestled in a cirque of mountain peaks soaring above 13,000 feet. The peaks include Fuller Peak, Vermilion Peak, and Golden Horn Peak. Depending on the sun, the water can vary from greenish turquoise to cobalt blue. Sometimes you can even see a glimpse of purple!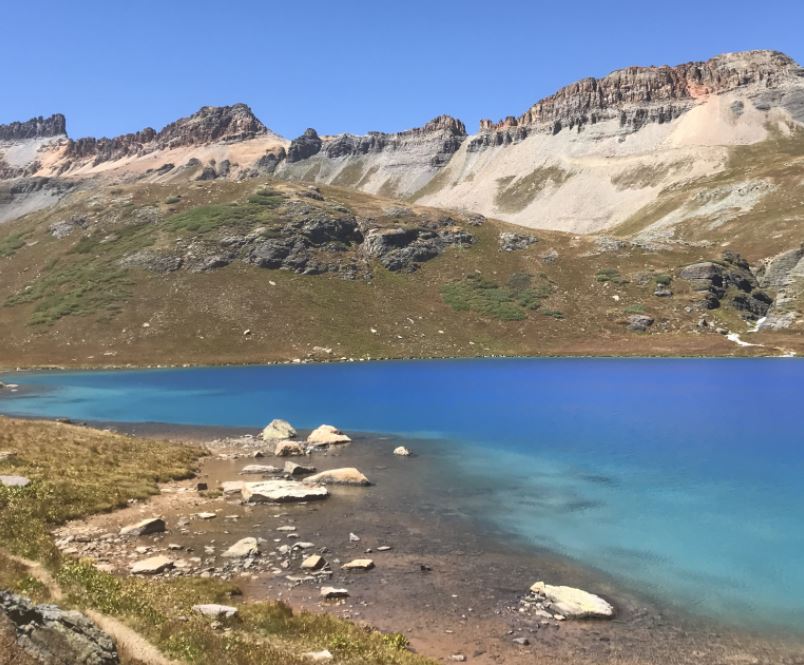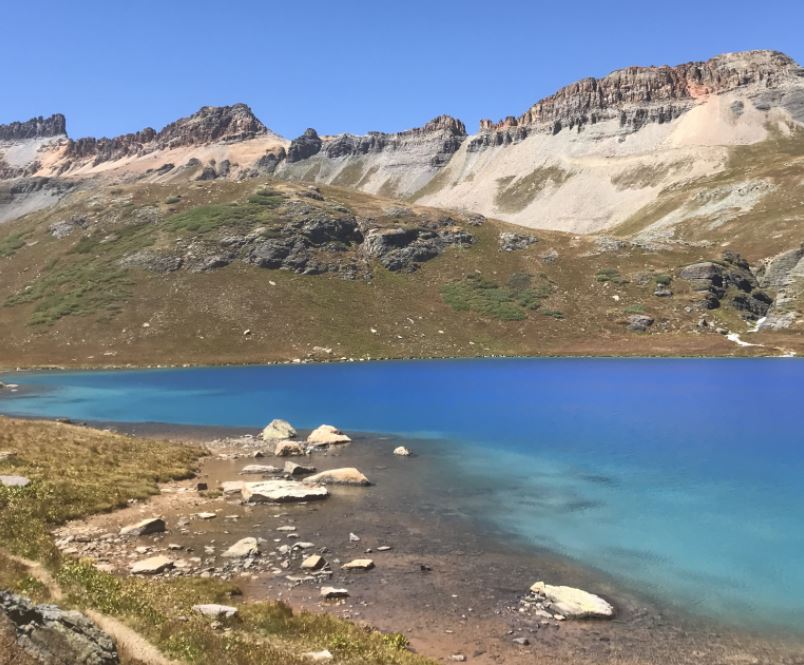 If you want to continue on from Ice Lake you have two options. The most visible trail heading left from Ice Lake leads to Fuller Lake and Fuller Peak. The faint trail etched into the mountainside to the right leads to Island Lake. See below for more on nearby lakes.
Other Alpine Lakes Near Ice Lake Basin
The distance to Fuller Lake from Ice Lake is 1.6 miles round trip. You will follow the trail up and to the left of Ice Lake. After passing a couple of smaller ponds, you will finally reach Fuller Lake. The trail continues around the right side of the lake and finally ends at Fuller Peak. The peak is a 13 miles round trip from the trailhead.
The distance to Island Lake from Ice Lake is 1.12 miles round trip. From Ice Lake, head to the right and follow the path climbing up and around the mountain. There are a few exposed rock faces you'll have to cross before finally reaching Island Lake.
No matter which lake you choose to go to, don't forget to look back at Ice Lake and enjoy it from afar. The cobalt blue color of the lake really stands out amongst the scenery.
Weather
Hikers should always be aware of the lightning risk when hiking in the Rocky Mountains, especially at higher elevations. As a general rule of thumb, you should plan to be off the highest point of your hike before noon in order to avoid the notorious afternoon thunderstorms that frequent the mountains during the summer months. Hikers should also be prepared for extreme sun exposure, high winds, cool temperatures and rapidly changing weather conditions while on the trail. Make sure you have the proper gear with you and know what safety precautions you need to consider beforehand.
Sun Protection
The sun's UV rays are much stronger when hiking at higher elevations (8,000 ft. – 14,000 ft.). Do not forget your sunscreen or sunglasses as it is extremely important to protect your skin and eyes when hiking at these elevations. It is also a good idea to bring a hat, and wear a long sleeve shirt and pants when hiking at a higher elevation.
Check out our Day Hiking Checklist as it will help ensure you don't forget anything before embarking on your adventure.