Unfortunately, you can't go snowboarding without a snowboard. By now, you've probably realized that there are a few other important pieces of snowboarding gear you will need to purchase before you can head to the mountain. Whether you are a beginner looking to buy your first snowboard, or an expert looking to add new weapons to the repertoire, it can be a tough decision due to the number of options on the market. This guide is intended to lay out all the options so can purchase snowboarding gear that will best suit your riding style.
Types of Snowboards
The type of snowboard you purchase depends on two factors; the type of terrain you will be riding the most and your skill level. While all board styles can be ridden anywhere on the mountain, some snowboards are designed for certain terrain. It is important to know your options so you can find a board that works for you.
All-Mountain Snowboards
As the name suggests, all-mountain snowboards are designed to work well in all snow conditions and terrain. Experienced riders on all-mountain boards are usually ripping groomers on bluebird days, slash powder when it's dumping snow, and also spend some time hitting jumps and rails in the terrain park. They are notorious for their versatility. If you are a beginner and unsure of exactly what you need, an all-mountain snowboard will be a great choice.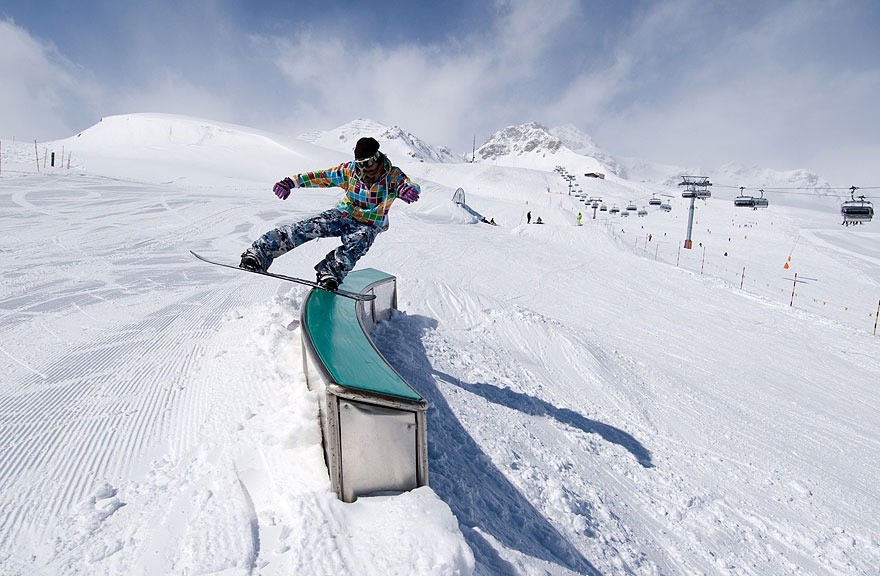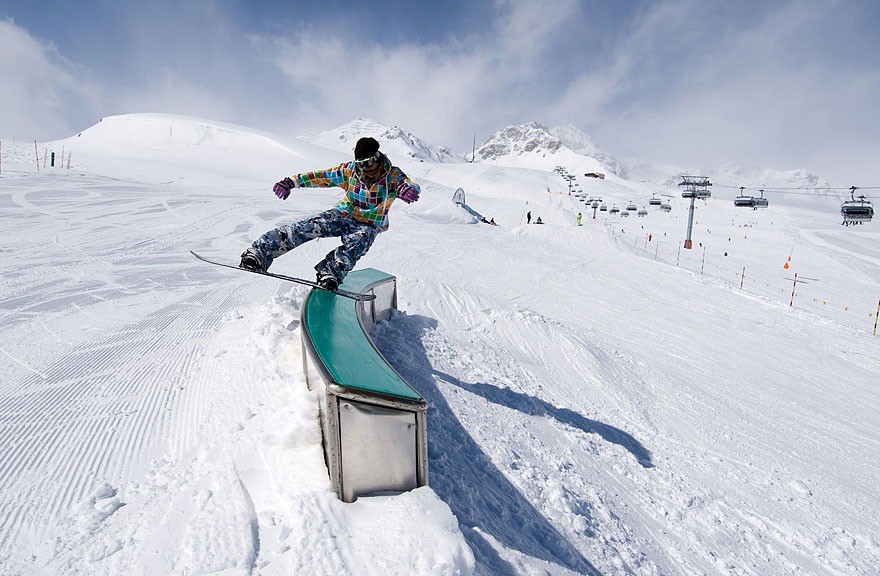 Freestyle Snowboards
Also as the name suggests, freestyle or park snowboards tend to be favored by those who spend their day in terrain parks. Freestyle snowboards are usually a bit shorter in length. This allows the rider to spin more easily and reduces weight. They also have a softer flex rating which adds playfulness and allows the rider to add style to their tricks. Lastly, freestyle boards often feature a true twin or asymmetrical shape for riding switch. A more versatile variant of a freestyle board is the all-mountain freestyle, which combines the versatility of an all-mountain snowboard with the playfulness of a freestyle snowboard.
Freeride Snowboards
Freeride snowboards typically have a stiffer flex and are longer in size than freestyle boards. Those who ride this type of snowboard typically spend their days on the trails where you won't see beginners or families. They are great for steep descents through the trees while hucking off anything you can find.  Freeride snowboards often feature a directional shape that is designed to perform optimally in one direction.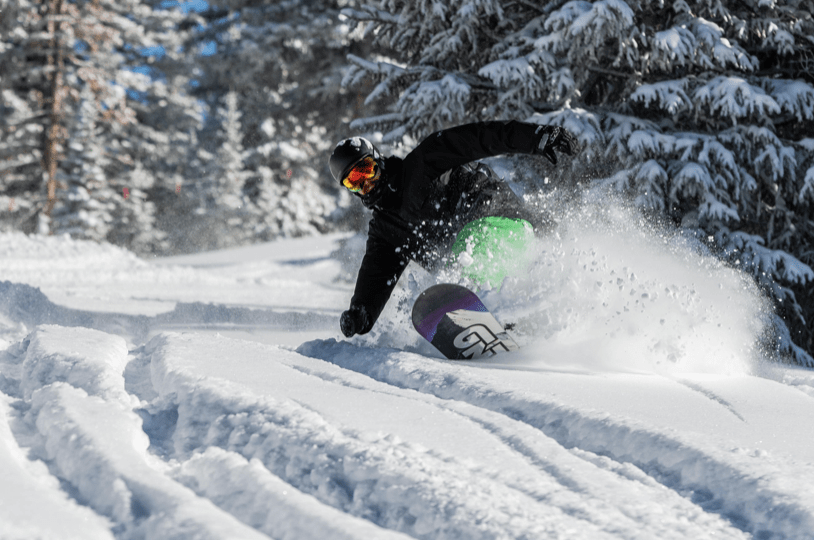 Powder Snowboards
Powder snowboards are made for everyone's favorite fluffy stuff. They typically are directional and have a wider nose and a tapered, narrower tail. You will find your feet are usually set further back on a powder snowboard to help the nose float on top of the snow. The placement of your feet will also help you pivot with your back foot more easily.
Splitboards
Splitboards are designed for the backcountry as they allow riders to access terrain they previously couldn't on a snowboard. As the name suggests, the board splits into two separate halves. This allows the rider to travel uphill with climbing skins as skiers do. Once you reach your destination, you can reconnect the two halves and ride down the mountain normally. It is important to note that special bindings are required for splitboards. Be sure to check with the manufacturer before purchasing bindings for your splitboard.
Snowboard Length
Many believe that if the top of your snowboard sits at chin height, you have the correct length. While this may be a good starting point, things like body weight, skill level, and the type of riding you plan on doing are also important factors that should be considered when finding the right length snowboard. Check out this post for a complete overview of how to find the correct snowboard length.
Snowboard Width
A lot of people new to the sport don't realize that snowboards not only come in different lengths but also different widths. Be sure you check that the width is correct before purchasing a new snowboard.
When a snowboard width is sized correctly, the snowboard boots will hang over the edges of the snowboard just slightly. If your boots extend too far over the edge, they will hit the snow during hard turns and cause you to fall. Before purchasing your snowboard, attach your bindings to your new snowboard and strap in your boots to make sure they fit properly.
Snowboard Flex
Like everything else, the amount of flex you want in your snowboard depends on the type of riding you will be doing the most. Snowboard flex ratings are not standardized across the industry. You will find that they can vary significantly between board types and manufacturers.
Softer Flex
Softer flexing snowboards are going to be more forgiving and easier to turn. A soft flex is good for beginners, riders with lower body weights, and park riders. Soft snowboards tend to be a bit looser at higher speeds but can also provide a soft buttery feel at slower speeds.
Stiffer Flex
Stiffer flexing snowboards are usually built for freeride and backcountry use. They provide better edge hold and are more stable at high speeds. Stiff boards can be great for riders laying down high speed turns but tough for beginners and lightweight riders to flex properly.
Snowboard Bindings
There is more to picking out snowboard bindings than choosing a color that matches your snowboarding gear. It is important to understand how your boot will be secured to the binding, as well as the flex rating and if it will be compatible with your snowboard.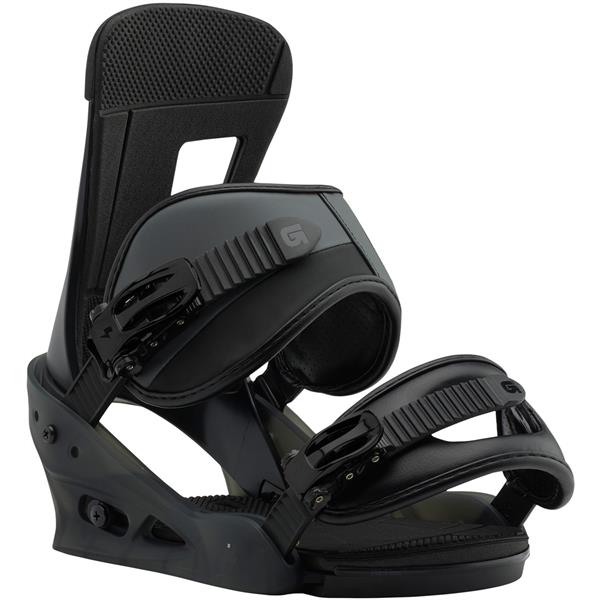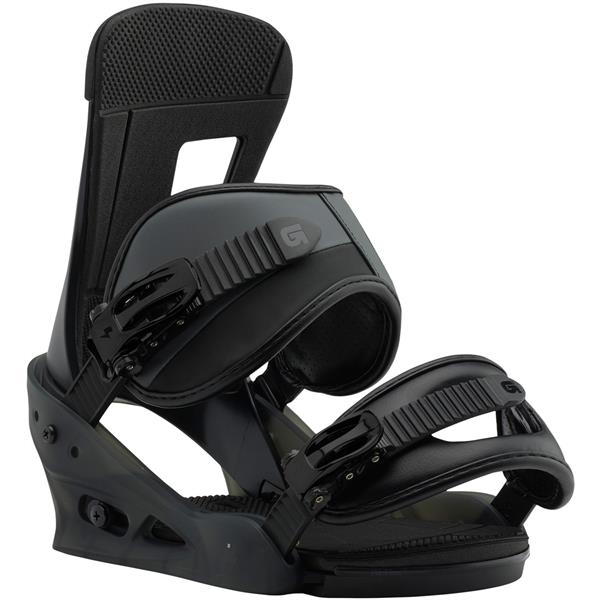 Strap-In Bindings
Strap-in bindings are the most common type of binding. This type of binding has been used for a long time simply because it works great. Two straps go over the top of your boot and tighten down to your preference using a ratcheting mechanism. They are extremely easy to use and keep your feet secure in the binding.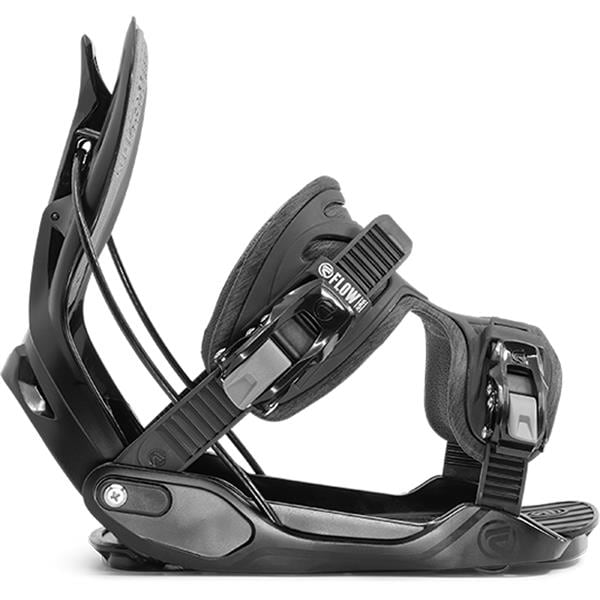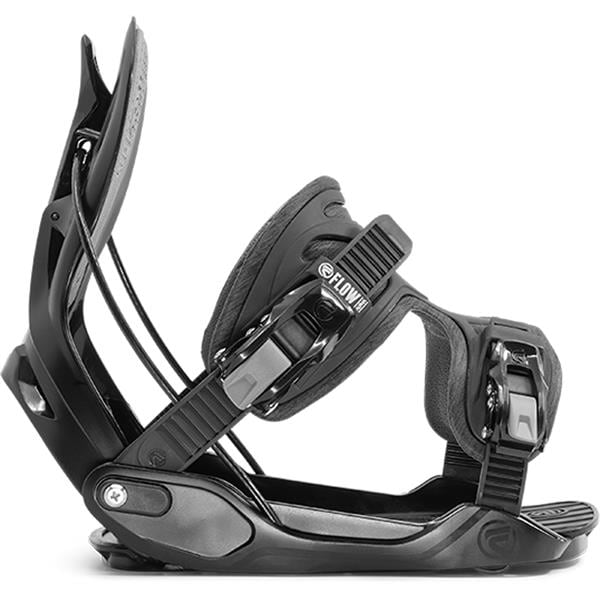 Rear-Entry Bindings
Rear-entry bindings were created so riders can strap into their bindings quicker. The binding highback pops open so you can slide your foot into the straps which should already be tightened to your preference. The highback will then need to be snapped back into place, securing your foot.
Although they sound like a breeze, rear-entry bindings can be tricky for beginners. This is because beginners have a hard time finding their balance and end up sitting down when strapping into their bindings. Rear-entry bindings work best when strapping in standing up or when there is a bench to sit on, which can be hard to come by at a lot of ski areas.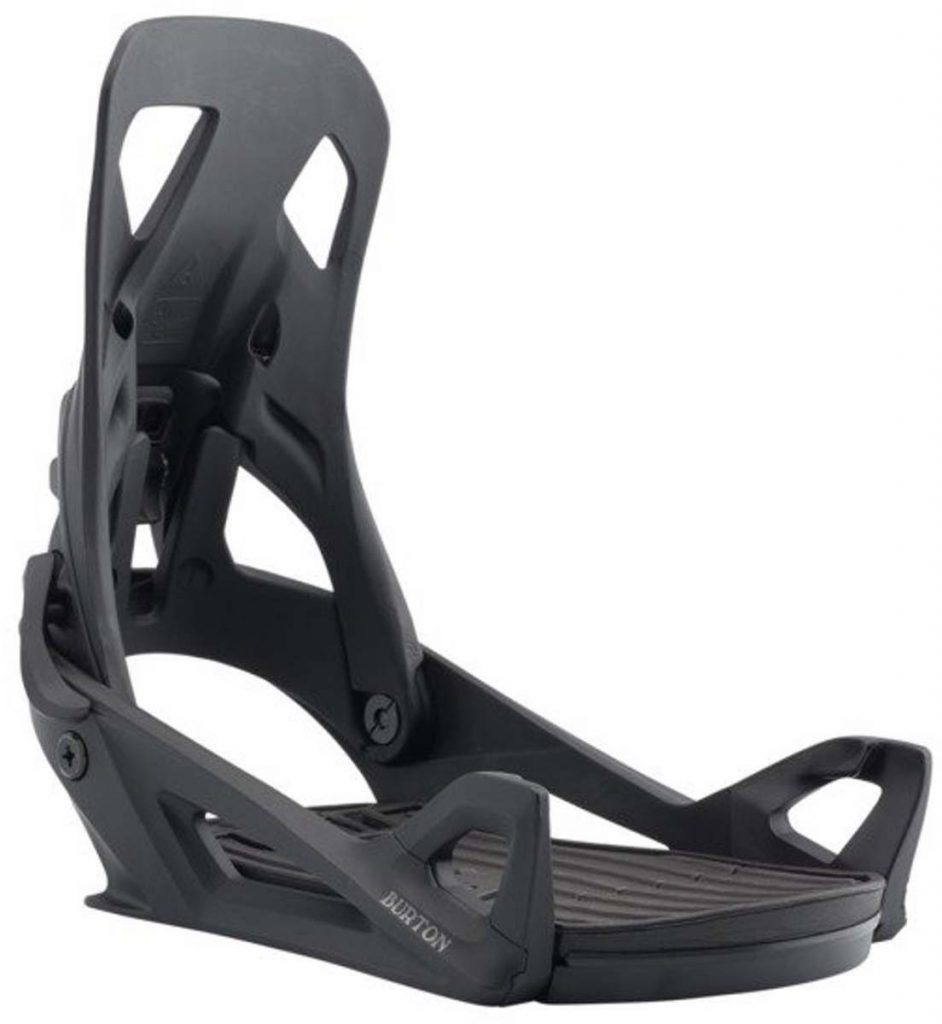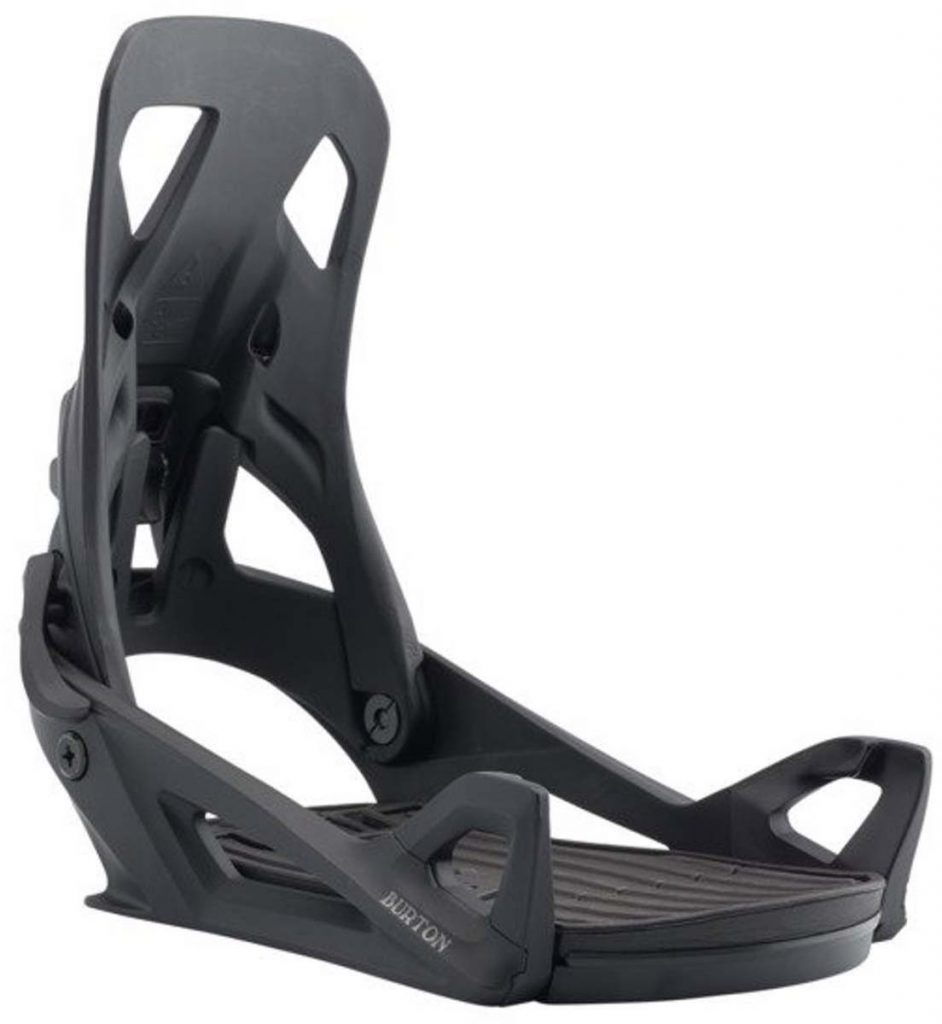 Burton Step-On Bindings
Burton Step-On bindings allow you to secure your feet quickly and with ease. As the name suggests, all you do is step on the binding and click your heel into place. It is important to note that you can only use Burton Step-On boots with these bindings.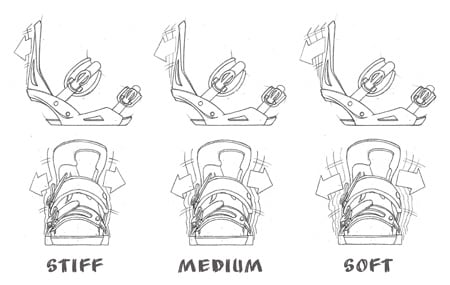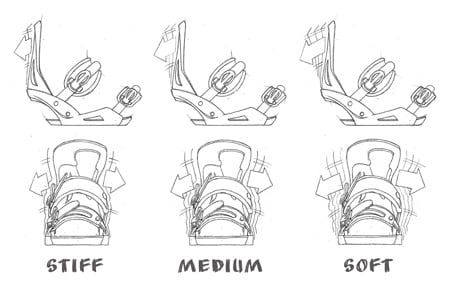 Binding Flex
Many don't realize that snowboard bindings have flex ratings. Snowboard bindings with more flex are going to be preferred by beginners and those who spend their days in the park. Stiffer snowboard bindings are going to be preferred by all-mountain and freeriders. Be sure to check the flex ratings before purchasing. It is important to note that binding flex ratings are not necessarily standardized and can vary by manufacturer.
Binding Compatibility with Boots
Snowboard bindings come in small, medium, and large sizes. It is important to purchase the right size bindings for your boots. The first thing you can do is to check the manufacturer's binding size chart to see what size binding you will need.
Next, you should strap your boots into your bindings to make sure they fit correctly. The binding straps should comfortably fit over the boots and you shouldn't have any trouble tightening them down. If the strap ladder does not reach the ratcheting mechanism or is bottoming out, it may need to be adjusted. Binding straps typically adjust from both sides. This helps center the strap over your boot. You know you have the right size binding if the heel of your boot fits snugly and there is no additional play once strapped in.
Lastly, you should make sure your binding flex matches the flex of your boots. It would not make sense to have a stiff binding and a soft boot or vice versa.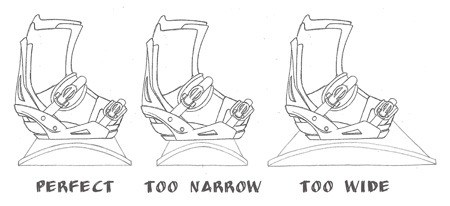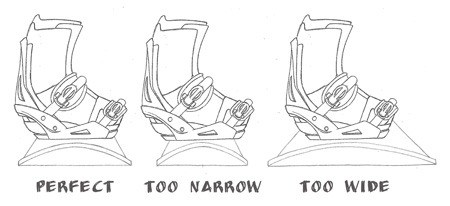 Binding Compatibility with Snowboards
Both snowboards and snowboard bindings come with a variety of mounting options. Most options are compatible with each other, but it is always a good idea to check with the manufacturer before purchasing. Check out this post for a more in-depth guide on how to choose the correct snowboard bindings.
Snowboard Boots
Snowboard boots are arguably the most important part of your snowboarding gear as they can make or break your day on the mountain. Many tend to spend the majority of their budget on the board and bindings while letting their boot considerations go to the wayside. The price shouldn't be the only consideration when purchasing snowboard boots. Buying a boot because it is cheap is a potential recipe for discomfort. You need to be sure the boot is comfortable and fits perfectly.
As with anything else, there are a lot of options to choose from when purchasing snowboard boots. Not only will you need to find the perfect fit, but you'll have to decide on the lacing system, style, and flex.
How are Snowboard Boots Sized?
Most snowboard boot companies use traditional U.S. number sizing. Just like any other type of shoe, the actual sizes can vary by manufacturer. Be sure to try on before purchasing to ensure the proper fit.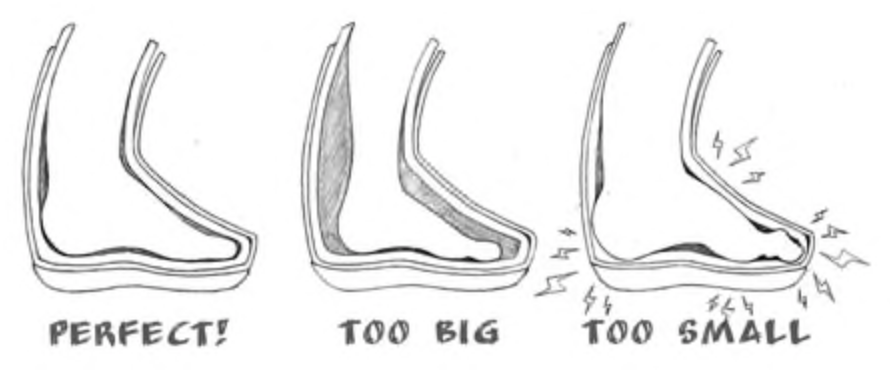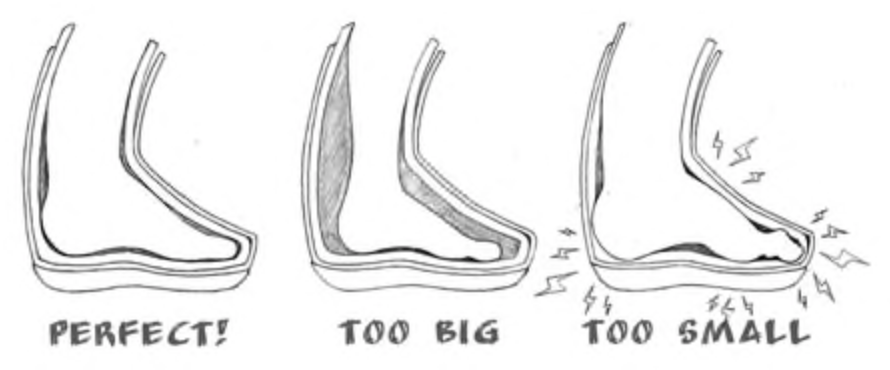 How Should Snowboard Boots Fit?
Snowboard boots will most likely feel fairly tight when brand new. This is because they need to be broken in. Eventually, they will form to their true size after a few days on the mountain. At this point they should still fit snugly, but not to the point where they cause pain or make your feet go numb.
Your toes should gently graze the boot's toecap in proper fitting snowboard boots. Be sure that you can still wiggle them inside the boot.
Many snowboard boots have additional support around the heel to hold it in place. Heel hold is extremely important for board control when making toeside turns. Your heel should not move when your knee is driven forward in proper fitting snowboard boots.
Lastly, the type of socks you wear plays a big part in boot fit but more on that later.
Snowboard Boot Liners
Every snowboard boot comes with an inner liner. These liners are usually made from a lightweight, moldable material. The liner not only keeps your feet warm on colder days, but it also provides added cushioning and support. All liners have some sort of tightening system separate from the snowboard boots. Some liners are removable, while others are permanently attached to the boot. Removable liners can be taken out for quicker drying when wet.
Snowboard Boot Flex
Many don't know that snowboard boots have different flex ratings. Boots with a softer flex rating are usually chosen by beginners and those who spend their days in the park.  Boots with a stiffer flex rating are usually chosen by all-mountain riders and freeriders. As stated above, it is important to match your boot flex to your binding flex. It is unusual to purchase softer flexing boots with stiffer bindings and vice versa.
It is important to note that boot flex ratings are not necessarily standardized. You may find snowboard boot flexes vary from brand to brand.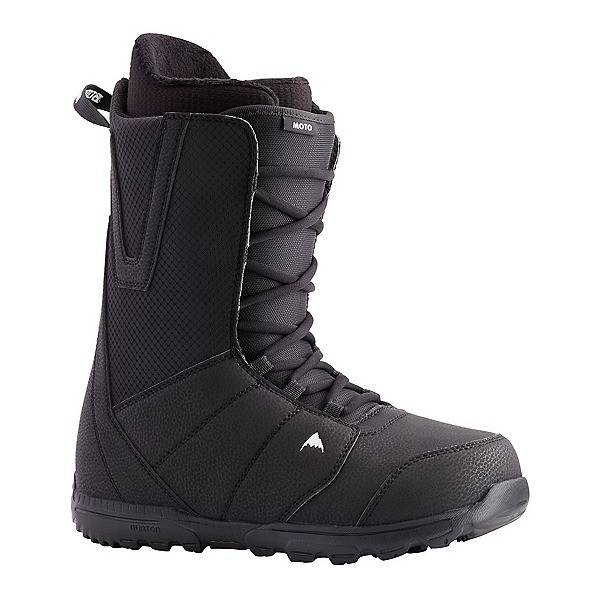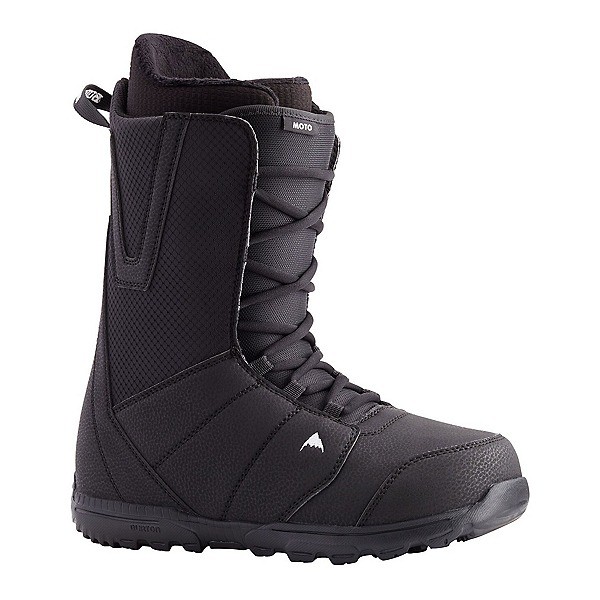 Traditional Lacing Boots
Traditional lacing systems have been around for decades because they are extremely easy to use and allow for a more tailored fit. The laces are also much easier to replace if broken. The only downfall is that you may find yourself re-tightening your boots multiple times a day as they don't hold their tension as well as other systems do.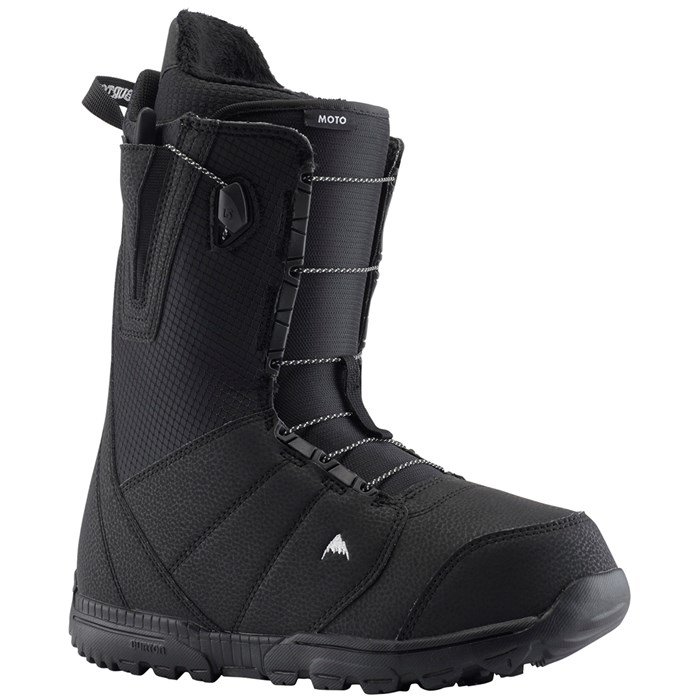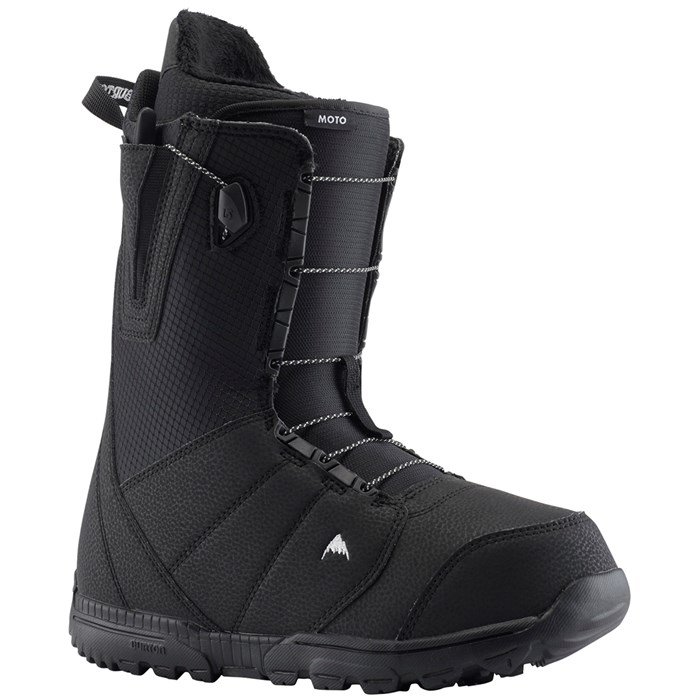 Quick-Pull Lacing Boots
There are many different types of quick-pull lacing systems as they vary by manufacturer. Almost all of them allow the top of your boot to be tightened independently from the bottom. This is called zonal lacing and provides a more custom fit. Another cool aspect is that most of these systems will stay tight throughout the day. If for some reason you need to make an adjustment, you can likely do it while wearing gloves. The only downfall to quick-pull lacing systems is that if something malfunctions, it is not going to be an easy fix. Your day will most likely be over and you may end up having to purchase a new pair of snowboard boots.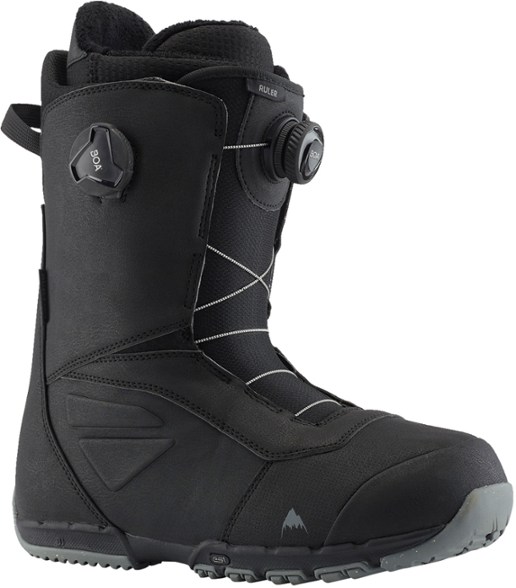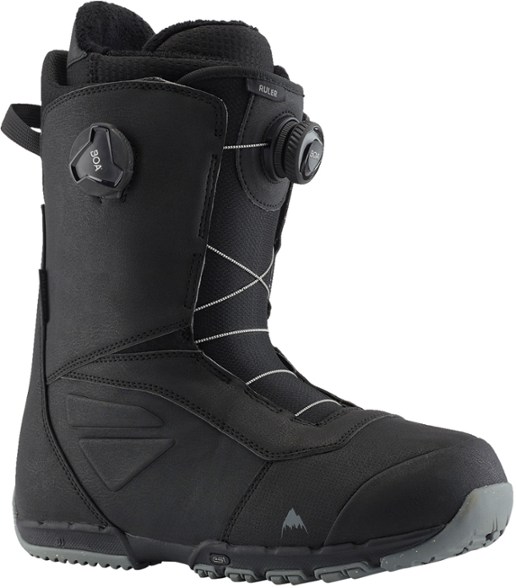 BOA Lacing Boots
BOA lacing systems are taking the industry by storm. These systems use a ratcheting dial attached to a cable. Turning and locking the dial can be done with one hand and also with gloves on. Some boots come with only one dial, while others come with multiple dials to tighten different zones. BOA lacing systems are used in many different sports because they are so fast, easy, and reliable.
One of the great things about BOA lacing systems is that if the cable breaks or the dial malfunctions, BOA will send you a free replacement. It is always good to request a spare dial and cable ahead of time so that you can be prepared for whatever bad luck may come your way. Check out this website for a more in-depth dive into BOA systems.
Snowboard Socks
Although some may disagree, your choice of snowboard socks can make a big difference in comfort and performance. Snowboard specific socks are typically made from wool and/or synthetic materials. These materials will help keep your feet warm and wick away moisture. Cotton socks should be avoided at all costs as they don't wick moisture away from your feet. This will not only be uncomfortable but can make your feet cold. Wearing two pairs of socks and/or wearing thicker socks is also not recommended. If your boots fit correctly, one pair of snowboard socks combined with your snowboard boot liner should be enough to keep your feet warm and dry.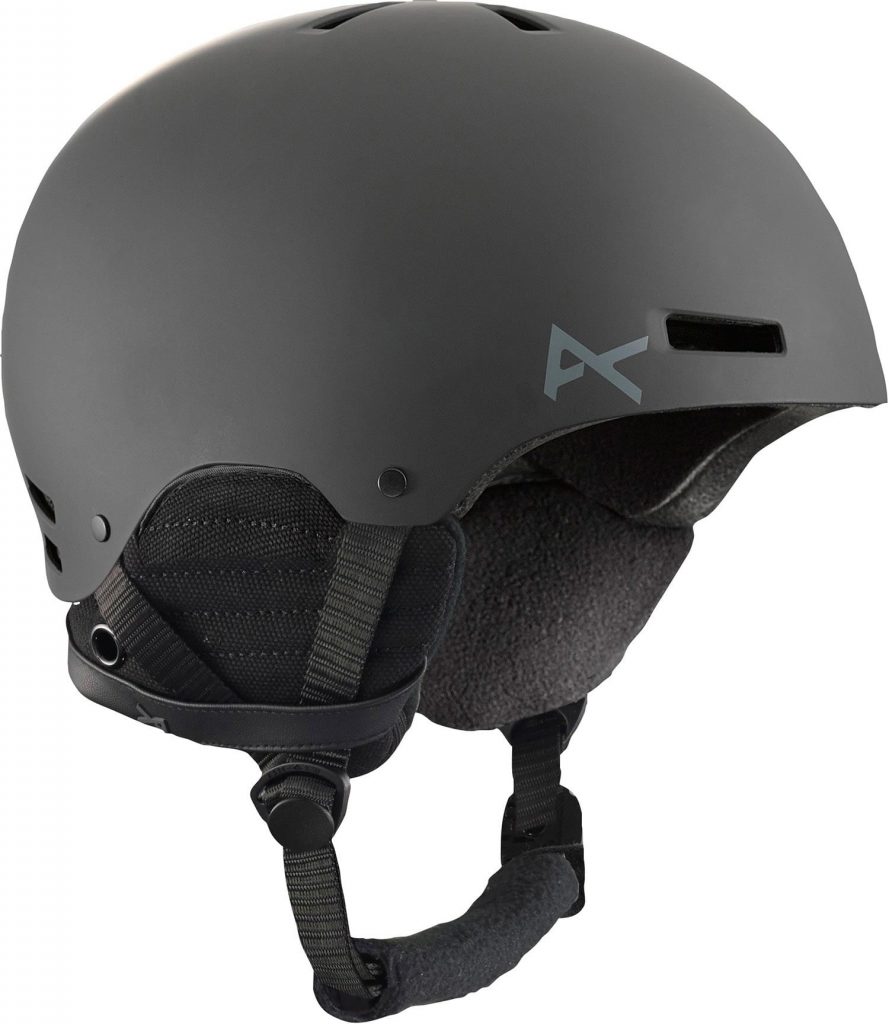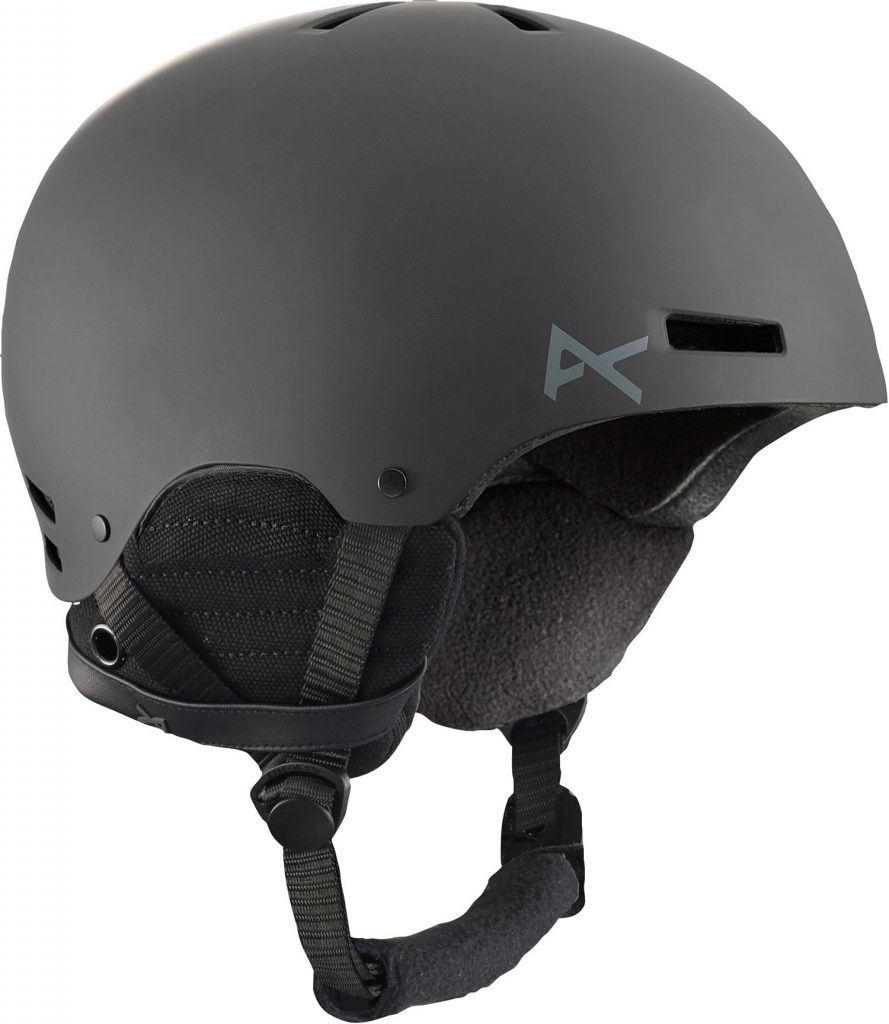 Snowboard Helmet
A snowboard helmet is a must when you purchase snowboarding gear. You don't need to be going fast to suffer a severe head injury. Often times, concussions and/or skull fractures happen when you are going just a couple of miles per hour.
The easiest way to find the perfect helmet fit is to try it on. Be sure the helmet feels snug all the way around your head. You may need to mess with the adjustable dial if the helmet has one. If you shake your head with the chin strap unbuckled and the helmet doesn't move, you know you have the correct size. Don't forget to buckle the chin strap and adjust to comfort.
If you are buying a helmet online, you will need to measure your head before purchasing it. Take a soft tape measure and wrap it around your head about one inch above your ears. Be sure to take note of the measurement in centimeters as this is how most helmets are measured.
Goggles
All snowboard goggles will offer protection from the wind and cold, but there are a few other features you need to consider when buying snowboard goggles. The most important feature is the lens color. If you typically ski at higher elevations, you will need a darker lens to protect your eyes. This is because the UV rays are much stronger at higher elevations. You will also need a darker lens if you typically ski on bluebird days. If you chase powder, you are going to need a lighter lens to help you see when the light is low and there isn't much visibility.
Purchasing goggles with interchangeable lens is the best way to go. Weather can change in an instant and you never know when you are going to need a lighter or darker lens.
Base Layers
The base layer is what you wear next to your skin. Its main job is to wick moisture away from your body and help keep you warm. That means it should be made from synthetic or wool materials. It is best to avoid cotton as it doesn't wick moisture. Wearing cotton base layers will only make you colder.
It may be tempting to purchase cheap base layers, but you will find that can be a mistake. Good base layers, from a reputable brand will last much longer and keep you more comfortable than cheaper options. It is an investment worth making, especially if you opt for wool.
Most people wear long underwear and a long-sleeve shirt as their base layer. Some prefer capri-cut underwear so that the cuffs stay up and out of their boots. Whatever base layer you go with, just make sure it's comfortable and fits you well.
Insulating Layers
The middle layer is your insulating layer. This is the layer that does the hard work of keeping your torso warm in freezing temperatures. If it is really cold, you can add multiple mid-layers to keep you warm. If you find yourself snowboarding on a warm, spring day, you can easily shed layers so you don't start sweating. Most find that they don't need a mid-layer on their lower half as legs typically stay warmer than the rest of your body.
The best materials for mid-layers are natural or synthetic down jackets. Just like the base layers, it helps to purchase a down jacket from a reputable company as it will be warmer and last longer. Down jackets only weigh a few ounces but pack a huge punch in terms of warmth.
Shell Layers
Finally, the outermost layer of your kit is the shell layer. This layer consists of a waterproof and windproof jacket, as well as pants. The only job this layer has is to keep out the elements.
There are a lot of features to decide from when purchasing shell layers but the most important is the waterproof rating. Be sure to check this as you don't want to purchase a jacket or pants with a waterproof rating below 15,000mm. Also, make sure your shell layer fits comfortably over your insulating layers and that you like the pocket layout. Most of your gear will be carried in your shell layer, so think about what you want to have easily accessible.
Gloves/Mittens
It is obvious that you will need something to cover your hands while snowboarding. Snowboarding gloves typically offer more dexterity but don't typically keep your hands as warm as mittens do. If you are snowboarding in warmer conditions, you'll probably want gloves or mittens that aren't too warm but have good waterproofing. On the other hand, if you are riding in colder conditions you'll need gloves that have more insulation.
Face Mask
The lower half of your face and neck are usually the only thing exposed when snowboarding. You can cover them with a neck gaiter on colder days to help retain body heat. If you are snowboarding on a cold winter day, the Seirus Innovation Neofleece mask is a great option. The front of the mask is made out of a neoprene material which helps keep the cold out. It also has ventilation holes for your mouth and nose to help you breathe. If you are snowboarding in warmer weather a lightweight neck warmer will not only keep you warm but protect the lower half of your face from the sun.
Stomp Pad
You don't have the luxury of using ski poles when snowboarding. You must take your foot out of your binding and push to move around. Stomp pads are used to create a stable spot for that foot when getting on and off the chairlift. They can also help personalize your snowboard as they come in any shape and size you can imagine. Check out this link to shop recommended stomp pads.


Snowboard Bag
A snowboard bag isn't a must-have, but it can be a great addition to your snowboarding gear if it fits in your budget. Snowboard bags are great for traveling and storage purposes as they can help prevent accidental dings and dents. They also help keep your gear safe and organized while traveling. Snowboard bags do come in different lengths, so be sure to purchase one that will fit your board.
Be sure to check out our Snowboarding Checklist once you are ready to hit the mountain!