One question that everyone asks at one point in their snowboarding career is "How long should your snowboard be?" From my personal experience, many say "It should be between your chin and nose." Although they are not incorrect, many don't realize how important the riders weight is when deciding on the length of a snowboard. Getting the right length board is important and will affect your performance as you ride.
To answer this question you need to know two things. The first is to find out what size snowboards are designed for your weight. The second is figuring out what type of snowboarding you want to get better at.
You can go to any snowboard manufacturers website to find out the snowboard lengths that are designed for your weight. For this example, we are going to use the Burton Process snowboard.  If you weigh 170 pounds, there are eight different snowboard sizes you can ride between 152 and 162 centimeters. Click the link to see the sizing chart on Burton's website.
Types of Snowboarding
To narrow this range down, you need to decide what type of snowboarding you want to do. If your goal is to ride park and learn tricks, then you want a board on the smaller end of the scale. A shorter board will be more maneuverable, lighter, spin quicker, and be easier to press.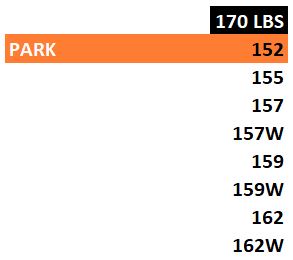 If you are into big jumps and halfpipe, then you want a park board that is a little bit longer. This will help when carving up to the jump and carving up the halfpipe wall.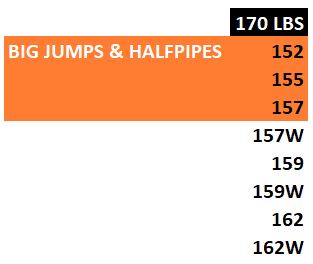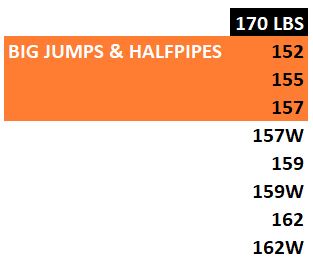 If your goal is to ride backcountry and powder, then you'll want a board that is at the longer end of the scale. A longer board will keep you floating on top of the powder, is great for big turns, and will make stomping cliff drops a lot easier.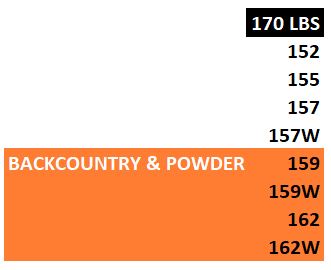 If you are undecided about what type of snowboarding you want to do, or if you just want to do a bit of everything, then you want a board length that is somewhere in the middle. A mid length board will be decent for learning tricks. It will also take you into the powder and will be great for carving on the groomed runs.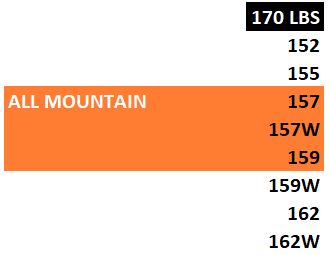 A mid length board is also what you want if you are a beginner snowboarder. The mid length will allow you to make your first turns but more importantly, will be great for controlling your speed and stopping.
Women's Snowboards
The same rules above apply when trying to find the correct size snowboard for a women. In addition to being lighter and more flexible, women's snowboards are usually shorter to account for the lower center of gravity and lighter body mass compared with their male counterparts. Women exert less force on their equipment and benefit from snowboards that are easier to turn.
I actually ride the 155cm Burton Process. This is a shorter board but I find that it can still do everything. The reason I lean a bit smaller because I like to ride park. I do find it a little harder to ride powder, but I can still manage due to the reverse camber. Reverse camber snowboards have a raised nose and tail making it easier to float in powder and do presses in the park.
I hope these tips will help you find the right length snowboard. If you are still uncertain, you can leave any questions in the comment area below.
Related Posts