Camping is always a blast and I believe there is no better way to become one with the outdoors than to spend the night in a tent. Camping just isn't the same when you are sleeping in a massive RV that includes a refrigerator, TV, tons of space, and an extremely comfy bed.
Although, there are times where it would be nice to have a little more protection from cold weather, wind, or even animals. That is where a teardrop trailer comes in handy. Rob Reeve of Denver, Colorado, is redefining what it means to keep it simple in the camper industry.
His company Hiker Trailer produces the most affordable teardrop trailer on the market. This trailer is lightweight and includes everything you need to experience the outdoors in an admittedly tiny space.
The 4-by-8-foot model starts at $2,895 (most similarly sized campers cost around $15,000) and weighs just 640 pounds. This means that it can be towed with most passenger cars, mini-vans and small SUV's. Its compact size makes is easy to maneuver in the woods, highways and bumpy roads. which means you can tow it behind virtually any car.
Hiker Trailer offers many features and options. They will even build your trailer to your exact specifications. You can have your trailer built with the bare necessities, or all the options under the sun. There is no need to settle for a pre-packaged trailer, of which you can't customize. They even offer a fully capable off-road trailer.
Hiker Trailer has two manufacturing locations, one in Denver and the other near Indianapolis. Having two manufacturing locations makes picking up your new Hiker more convenient. The two locations  have more than 14 years' experience building teardrop trailers.
The employees at Hiker Trailer not only build awesome trailers, they also camp in them. I find this really cool because it helps the company understand what is needed to make a camper-friendly teardrop trailer.

Highway Basic
4x8 | $2,895.00
5x8 | $3,895.00
5x9 | $4,895.00
5x10 | $5,895.00
Black Frame
Steel 14" Wheels
205 Tires
2000 lb Axle
One Front Shelf
Two Rear Shelves
DOT Trailer Lights
Safety Chains
4-pin Wire Harness
One Side Door w/Lock
Manual Roof Vent
All Aluminum Exterior
Aluminum Fenders
Vinyl Flooring
White Trailer
One 110 Volt Power Strip
One Exterior 110 Volt Plug
Two Side Windows w/ Screens
Most Affordable Teardrop Trailer

Highway Deluxe
4x8 | $3,795.00
5x8 | $4,795.00
5x9 | $5,795.00
5x10 | $6,795.00
Black Frame
14" Aluminum Wheels
205 Tires
2000 lb Axle
Rear Cabinets
One Front Cabinet
DOT Trailer Lights
Safety Chains
4-pin Wire Harness
One Side Door w/Lock
Manual Roof Vent
All Aluminum Exterior
Aluminum Fenders
Vinyl Flooring
White Trailer
One 110 Volt Power Strip
One Exterior 110 Volt Plug
Two Side Windows w/ Screens
Galley Pass Through Door
Small Rear Galley Door
More Customizing Options Available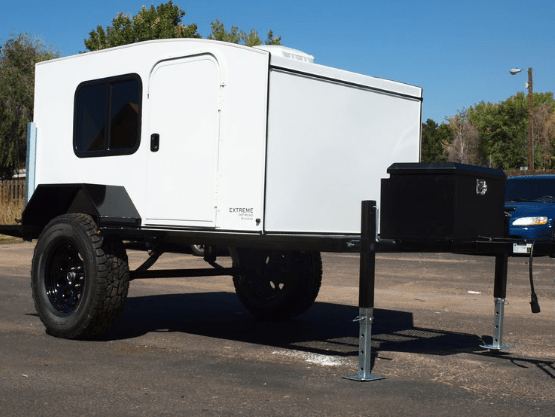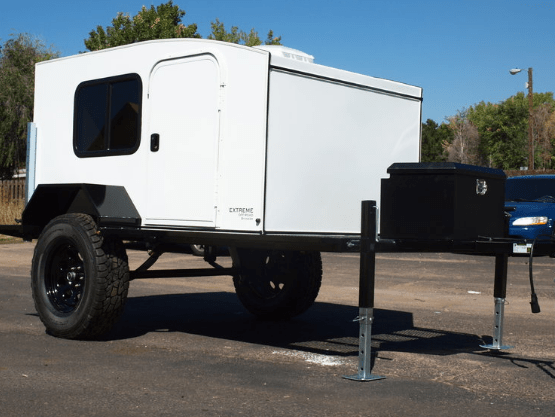 Extreme Off Road Deluxe
4x8 | $7,995.00
5x8 | $8,995.00
5x9 | $9,995.00
5x10 | Not Available
Black Frame
17" steel Black Wheels
33" Tires
3500 lb Axle
2 Rear Dropdown Legs
Front Jacks
LED Trailer lights
Safety Chains
7 Pin Wiring Connection
One Side Door w/Lock
Manual Roof Vent
All Aluminum Exterior
Custom Color Aluminum Fenders
Custom Color Trailer
One 110 Volt Power Strip
One Exterior 110 Volt Plug
Two Side Windows w/ Screens
Large Rear Side Opening Galley Door
Black Front Storage Box
2×3 Steel Off Road Frame
Leaf Springs w/ Shocks
Two Rear Shackle Mounts
Integrated Front Storage Rack
2" Receiver Rear Hitch
5 On 5 Lug Pattern
More Customizing Options Available