Paragliding is known as an extreme sport in most parts of the world. Categorized as an aero-sport, or flight sport, it came to be in the 1980s by Mountain Climbers as a way to come down the mountain quicker.
Paragliding is believed to be one of the easiest flying sports in the world. As with many sports, it is continuously advancing and improving to make it safer and more exciting for the participants. No longer considered just a sport, the last two decades have seen paragliding advance as a popular outdoor activity.
There are no strict rules of the law, it is basically an activity that relies on goodwill and free time. And, some would say plenty of luck. Although, there is no complicated training period, no difficult manoeuvres to learn and nothing that will take away the joys of free-flying. The only stated requirement is that people follow FAR Part 103 and any civil laws in the area they choose to paraglide in.
Paragliding provides hours of exciting adventures, travelling and a chance to challenge yourself. There is one aspect that can be even more exciting than all of those. The sights you see as you are paragliding could be the most enjoyable and relaxing possibilities of your lifetime.
Sedona, Red Rocks Arizona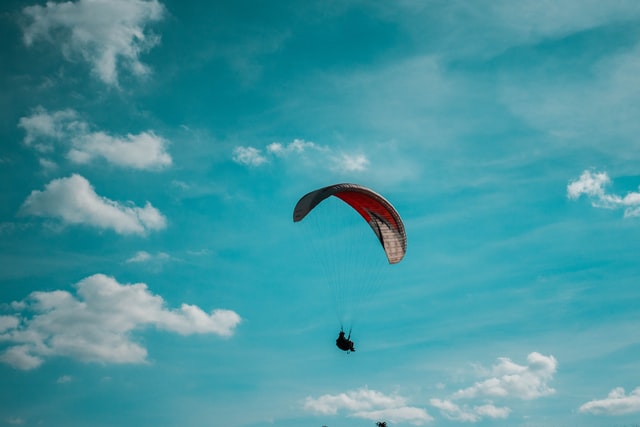 Among the wondrous smells of juniper, limestone, red clay and wildflowers, Sedona is one of the top paragliding destinations in the United States. This location must be visited during the non-rainy season.
Adventure seekers enjoy the feeling of flying over all the red rock, the thrill of flying over a barren land with nothing but desert and wildflowers. Paragliders agree that flying over this area of Sedona gives a sense of peace and serenity like no other area is capable of.
Bald Mountain, Sun Valley, Idaho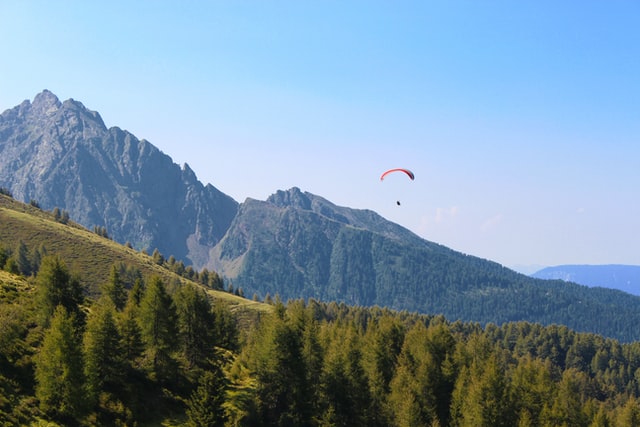 Not only is Sun Valley one of the top Ski resorts in North America, but it has also become one of the United States' favourite locations for paragliding. Bald Mountain not only gives you the scent of fresh air, but it also gives you the beauty of the scenery that is hard to match anywhere else.
Less experienced flyers are able to go on tandem flights from Bald Mountain, however, Bald Mountain is most known for those with higher degrees of experience paragliding.
Sun Valley is known more for skiing than it is for paragliding, however, it is quickly becoming a top location for the experienced paraglider.
Torrey Pines, La Jolla California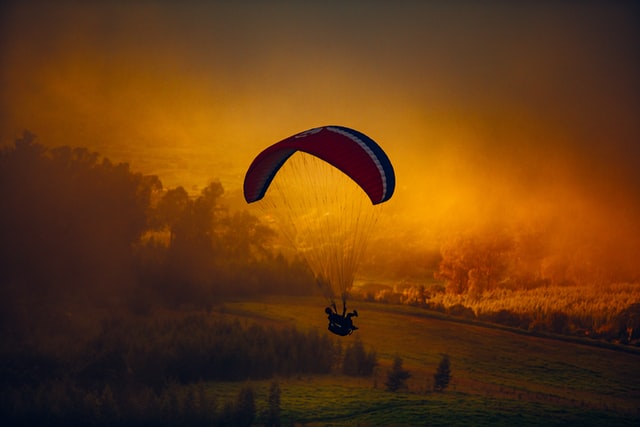 Southern California is home to the oldest and most historic aviation site in the United States. Torrey Pines Gliderport is home to sales of equipment, flight lessons and certifications. They also offer tandem flights, flight lessons and repair services.
Torrey Pines is located on the perch of Black Mountain, obviously, you will have the mountains as a backdrop view, however, you will also have the ocean view as you glide across the sky.
For spectators, it is one of those spots that alone can relax and take away the stresses of the daily grind.
Other memorable sights and activities include the phenomenal foods served at Gliderport, the live music weekly and best of all, you may even have the joy of witnessing some canine gliders. Obviously, they will be flying with their owners, but you will get to see the joy and sense the relaxation on top of the thrill that even a dog gets from paragliding.
When you are finished watching the paragliders or done participating yourself, it is just a short walk down to Black's Beach on one of any number of paths down the mountain.
Haleakala, Hawaii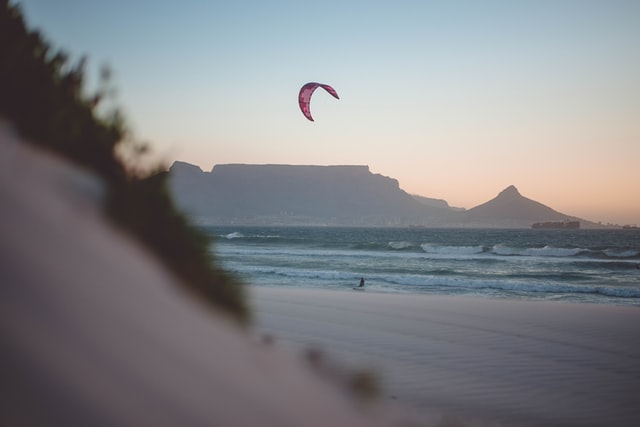 There is no secret that Hawaii is a dream-like landscape. It is filled with ocean views, mountainous regions and all things you would expect from gorgeous land and people.
The green and lush mountain tops and the awesome Volcanoes located in Hawaii are all seen better when taking it in by aerial view. There are many great locations ones can launch from in Hawaii that cannot be matched anywhere else.
Mount Haleakala offers a great starting point with views that overlook Maui. Also, if you are relatively new to paragliding, Hawaii has many operators that can glide with you or go in tandem with the true new paragliders.
The true beauty of Hawaii makes the perfect aerial views for a paraglider.
The Point, Draper, Utah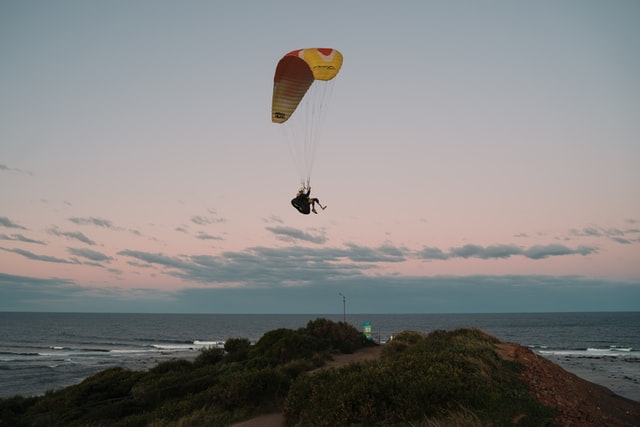 After you are done with the sightseeing in Salt Lake City, drive over to the Point in Draper Utah. This has become the dream location for many paragliders in the United States. The location is just on the outskirts of Salt Lake City and is prime for beginners.
This is the best spot to learn the ropes and enjoy viewing the sunset. This location does not have many actual high spots to begin your flight from, however, it has the scenic beauty that is not available in many other locations.
Owens Valley, California
This is known as the best location for beginners in the world of paragliding. This area has many of upward air flows that will allow for longer flights. The area also has the tallest mountains in the east as well as deserts. Owen's Valley is located on the Eastern Edge of the Sierra Nevada.
Glenwood Springs, Colorado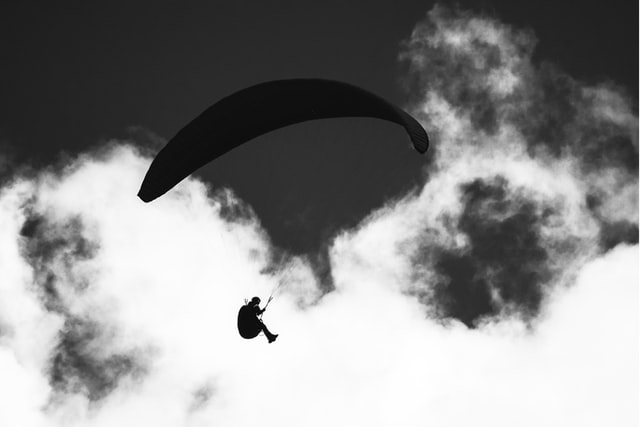 Colorado is home to many locations where paragliding is key to life and sport. Glenwood Springs is one more of those locations.
One aspect of Glenwood Springs is the height of the launching. However, once you get past the momentary fear, you will begin to look at paragliding in a whole new light.
Paragliding in Glenwood Springs begins at 13,000 feet. From this height you can see it all, everything there is to see in the hot springs town.
As you glide off the mountain, you may be encircled by the fluffy-looking clouds and the breathtaking beauty from above of the majestic mountains, cattle ranches and the ocean view.
The location also offers tandem flights as well as lessons. Flying tandem is a safe method and one worth taking.
Tiger Mountain, Washington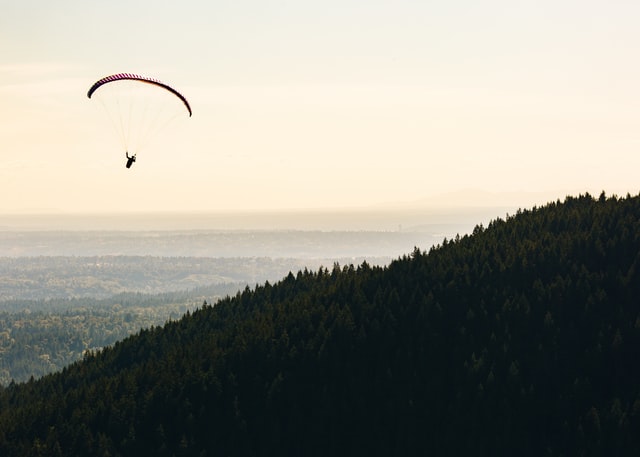 Considered to be one of the best paragliding locations for beginners, Tiger Mountain has much to offer. However, it is not just for beginners. It is an excellent location for those who want to fly like a bird over Issakua Alps and over Lake Sammamish.
The location launch sits just below a great hill that is perfect for watching paragliders take off and begin the dance of flying free.
Depending on the weather, the flight can take longer as well as give you more to see as far as Nature's beauty.
Tiger Mountain is quickly becoming the top paragliding spot in the United States, for both the beauty and the ease of flight from this location.
Jean Ridge, Nevada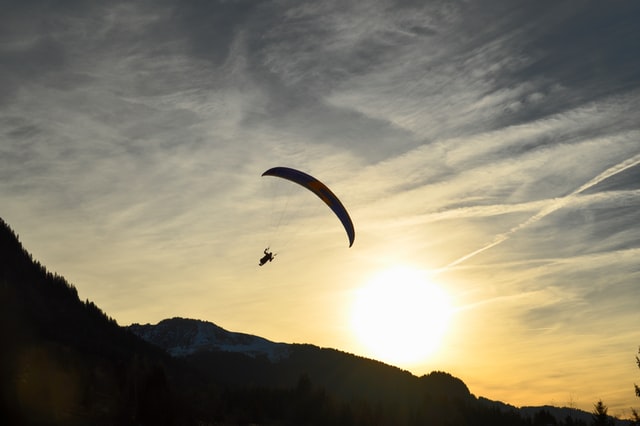 Nevada has a few great paragliding locations, however, Jean Ridge is the only ridge that offers a flight just as good as launching off a mountain top. Jean Ridge is a ridge that faces right into the prevailing winds and offers excellent conditions for paragliding.
The ridge is one mile long and 300 feet tall, offering a great launch. Launch sites have been created at various heights up the side of the ridge.
Paragliding is one of the extreme free airports around that can give you spectacular views, thrills and even chills. In virtually every corner and in between there are great launching locations for paragliders of all experience levels.
Most locations also offer tandem flights as well as lessons, sales and repair of equipment. The heights of various locations do all vary, with some starting you above the low-lying clouds. The sights and scenes that paragliding can give should be on everyone's bucket list.  Most of these views cannot be matched in any manner.
Paragliding has become one of the top forms of sports entertainment in the world. There are flight schools for all levels of learning. Most of the Paragliding locations offer lessons of one type or another, they also offer tandem flights, for those that are not quite ready to go on their own yet.
The sights and beauty that one is able to view while paragliding can not be found in any other aerial sport. There are varied terrains for paragliding, as well as varied height launch locations.
The schools not only teach the basics to paraglide, but they also teach the safety necessary for the flight.
Many of the flight schools have hills as well as mountains or higher levels to launch from. The basics are only part of a good paragliding foundation. These flight schools aim to teach how to become a well-rounded pilot in skills and knowledge. With the combination of training and teaching, paragliders will be able to travel to almost any location and enjoy a great flight free of fear and fright.
When students achieve a certain level of proficiency and confidence, they will advance their experience in paragliding safely. These flight schools for paragliding allow you to go at your own pace, they are not there to rush you through any aspect of learning to paraglide.
They believe that learning makes for a better experience all the way around.